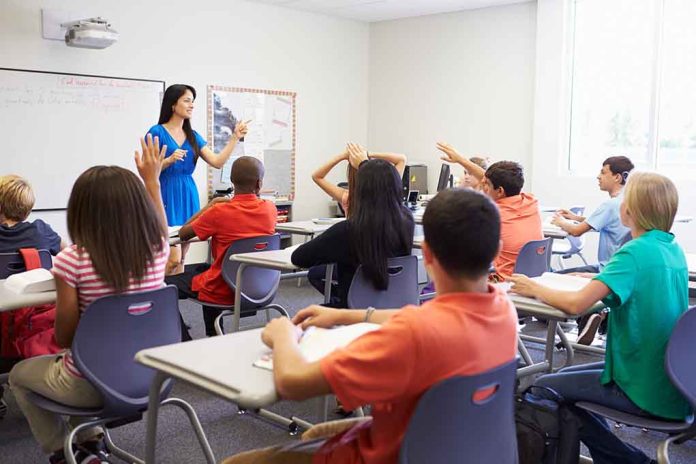 (USNewsBreak.com) – Students were out of the classroom for months during the height of the COVID-19 pandemic. Now that they've returned, the downside of virtual learning is becoming apparent as many young people have fallen behind in their studies. In an attempt to get students on track, some schools are using stimulus money to fund tutoring programs, but the success of such steps is questionable.
The Problem and the Funding
The Wall Street Journal reported students have fallen behind in math and reading as a result of remote learning. In response, Congress recently passed a funding bill to help educators fix the problem.
In March 2021, President Joe Biden signed the American Rescue Plan, which allotted $122 billion in funding to schools that they must spend by 2024 or lose. The bill requires 20% of the money received must go toward bringing students back on track due to lost classroom time. It also mandates evidence that the programs are effective.
The US Department of Education urged educators to use the money toward supplemental programming. Each school has the responsibility of choosing a reliable and valuable service.
Money Up for Grabs and Concerning Contracts
Many districts have opted to use in-person programs, but some went with online options, such as text-only and video sessions. The biggest issue with in-person programs is finding tutors. There is a shortage, which means some districts have no choice but to contract with companies that only offer services virtually.
Tutoring companies are vying for these coveted roles. The chief academic officer at Jefferson County Public Schools in Kentucky, Carmen Coleman, called the situation "a feeding frenzy" when speaking to the Wall Street Journal.
That district will spend $3.8 million on its tutoring program. Meanwhile, Houston Independent School District is spending $113 million. Omaha Public Schools are spending $24.3 million, and Charlotte-Mecklenburg Schools has $50 million to fund such programs.
The issue is that some of the companies getting this money don't meet the evidence-based requirement. One example is Paper Education Company Inc. It has contracts with 350 districts. Mississippi's Department of Education signed an agreement with the company for $10.7 million to work in 138 districts. Tennessee is also signing with the company.
But there isn't necessarily evidence its programs will benefit students. Paper Executive Philip Cutler claims the program is effective because of its availability. The program provides unlimited sessions at any time of the day. He also noted the company hired an education tech company to compile data over the next year about its services and effectiveness.
However, there are several issues the company has that could create challenges. The tutors don't teach new topics or provide instruction based on location. They only cover questions students bring to them. They have no knowledge of the students' curriculum or the teaching methods within the child's school district, which could also lead to confusion.
With millions of dollars up for grabs and a fast-approaching time limit to spend these funds, schools appear to be making deals now and worrying about the impacts later. Is there a better way? Do you think schools are wasting money, or is any step toward helping the children worth the investment?
Copyright 2022, USNewsBreak.com