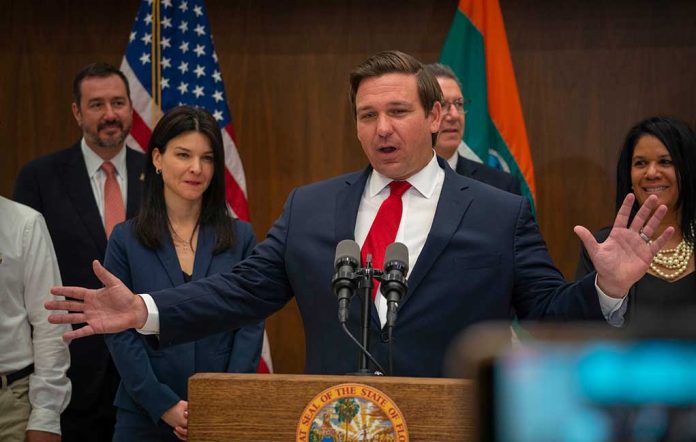 (USNewsBreak.com) – Florida Governor Ron DeSantis is seen as a leader by many Republicans in protecting freedom and defending his state against potentially damaging liberal agendas. In his January 11 State of the State address, he turned his attention to defending election integrity.
DeSantis suggested the creation of an agency to patrol elections and ensure the observation of voting laws. The Office of Election Crimes and Security would operate under the Department of State and governor.
DeSantis Proposes Creation of Department to Investigate and Prosecute Voter Fraud https://t.co/DBdGk7omPY

— Dr. Jake Baker (@DrJakeBaker) January 20, 2022
If the idea moves forward, it would be the first of its kind in the nation.
The governor requested nearly $6 million in funding for the operation. He explained the agency would have field offices around the state staffed with enforcement officials who would have the authority to investigate and arrest people breaking election laws. Anyone could call in tips, about questionable people, to the agency.
DeSantis said the election integrity unit would help instill more confidence in voters about the fairness of elections in the state. Still, detractors say this is opening the door for intimidation. Florida Democratic Party leaders said they worry this would encourage voter suppression and would be harmful to the people.
Some State Republicans are also somewhat hesitant. House Speaker Chris Sprowls said they would look into the matter more, although he understands the governor's concerns about the current lack of skill needed to root out election crimes.
Copyright 2022, USNewsBreak.com