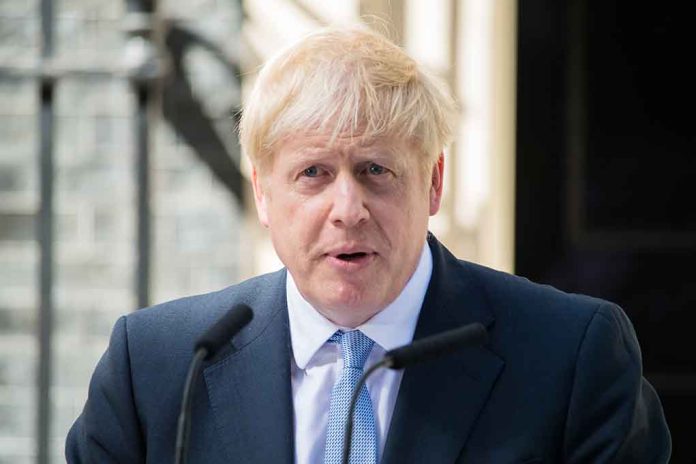 UK Government SHAKEUP – Mass Resignations Reported!
(USNewsBreak.com) – United Kingdom Prime Minister Boris Johnson has had a rough time in office during recent months. He's lost some cabinet officials, who resigned amidst concerns over the administration, and initially survived a no-confidence vote in Parliament. After a huge wave of recent resignations, however, Johnson has finally announced his intention to step down.
Mass Resignations
On July 5, Rishi Sunak, who served as the treasury chief, and Sajid Javid, who was the health secretary, left Johnson's cabinet. Both said ethics scandals within the administration were behind their resignations.
Javid stated Johnson has no desire to change, and he lost confidence in the UK leader. Sunak said he had to fight for proper conduct standards, and leaving his position was a way of standing up for what he feels is right. According to reports, the sexual misconduct allegations against former government minister Chris Pincher and Johnson's appointment of the official to the deputy chief whip role played a part in prompting officials to step aside.
In total, 16 people resigned within 24 hours. Other top members who left include Treasury Minister John Glen, Education Minister Robin Walker, Justice Minister Victoria Atkins, and ministerial aides Laura Trott and Felicity Buchan.
Education Minister Will Quince, who also stepped down, had defended the PM against allegations Johnson knew about Pincher's conduct. Upon his resignation, he said he had to leave because he received inaccurate information that he then passed on to the public.
The Prime Minister's Rocky Road
Johnson admits Pincher's appointment wasn't the best move given the sexual allegations against him. Even so, Pincher isn't the only issue that has haunted the PM. The British leader also faced a scandal for partying during COVID-19 lockdowns, losing a lot of support over the reckless behavior, which led to a no-confidence vote on June 6. Johnson survived the vote, but not without scars. His Conservative Party quickly split, with half of its members supporting the PM and the other half working against him.
Still, Johnson declared that the vote showed he still had backing from his party, and he planned to move forward with leading the government. He wanted to focus on important issues and move past the politics.
Despite his initial optimistic attitude, UK history shows the holding of a no-confidence vote never turns out well for Conservative prime ministers. They usually find themselves outed from office within months.
The Latest Developments
On July 6, the BBC reported that some cabinet ministers planned on prompting the prime minister to resign. Johnson was up to more than 30 resignations at this point, but he maintained he would continue on. The PM said an election is the "last thing" Britain needs right now and vehemently stated he would not step down. Even in the face of pounding questions and teasing in Parliament, he stood firm.
However, on Thursday, July 7, after more than 50 resignations, Johnson agreed to give up his position. Upon announcing his departure, he explained he would stay until a replacement could be found. According to Fox News, this is not expected to happen until September.
As a result, some are calling for him to walk away immediately. One critic, opposition Labour party leader Keir Starmer, indicated he didn't like the idea of Johnson "clinging on for a few months." But for the time being, there's no clear indication of who will take his place.
Who do you think should step in to replace Johnson as Prime Minister?
Copyright 2022, USNewsBreak.com