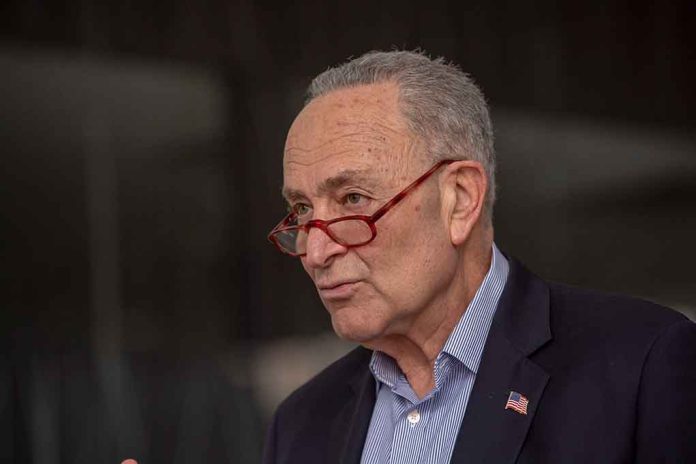 Chuck Schumer NOTIFIED – 48 Senate Republicans Have Joined Together
(USNewsBreak.com) – In an exclusive report, Daily Caller revealed 48 Republicans from the Senate sent Majority Leader Chuck Schumer (D-NY) a letter on June 1. They told him in clear terms that they would shoot down any attempt to bypass the Hyde Amendment. Senators Steve Daines (MT) and James Lankford (OK) led the GOP in the message.
EXCLUSIVE: 48 Senate Republicans Tell Schumer They Will Block Any Bill Undermining Hyde Amendment https://t.co/yinSoSTm2s

— Daily Caller (@DailyCaller) June 1, 2022
The Hyde Amendment forbids the use of federal money to fund abortions. It has been active since 1976, and the GOP says it's saved more than 2.4 million lives. In their letter, the senators clarified their "unwavering support" for the provision. They maintained a stance to protect all pro-life legislation.
The legislators explained they have bipartisan support from a majority of senators to uphold the amendment and the backing of a majority of the American people. But they said President Joe Biden is trying to use his Fiscal Year 2023 budget to override it. They accuse him of trying to increase federal money going to abortions under the Title X family planning program.
The lawmakers asked Schumer to commit at the very least to upholding the Hyde Amendment when proposing future legislation involving reproductive rights.
Of the 50 Republican Senators, only two did not sign this letter. When asked for clarification about why she abstained, Senator Susan Collins' (ME) press secretary, Christopher Knight, commented that the senator stands behind the Hyde Amendment and agrees federal funding should not go toward abortion. The other senator, Lisa Murkowski (AK), did not return a comment.
Copyright 2022, USNewsBreak.com