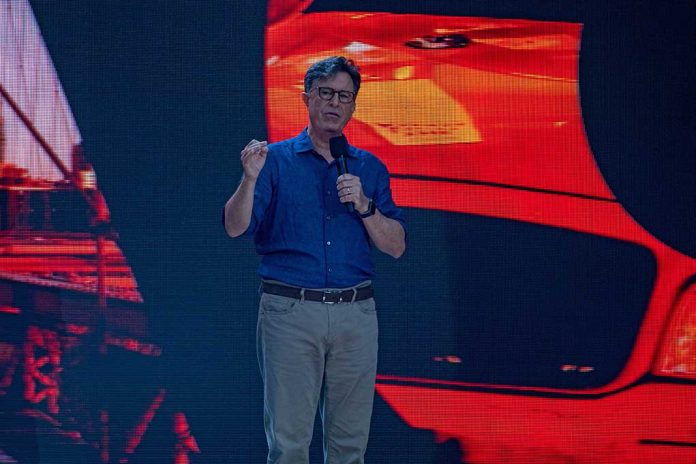 Stephen Colbert Staffers ARRESTED – Special Request Issued!
(USNewsBreak.com) – On June 16, police took multiple staffers for "The Late Show with Stephen Colbert" into custody on charges of illegal entry into the Capitol building after hours. Republican Representatives Rodney Davis (IL) and Jim Jordan (OH) sent a letter to Capitol Police Chief J. Thomas Manger requesting further clarification on the arrests. The lawmakers want to learn more about how these individuals managed to break into the offices.
Republicans Ask Capitol Police for Materials on Arrest of Colbert Show Staffers . https://t.co/eR6PAP1LtA

— Jay Tree (@JayTree22) June 21, 2022
The Representatives expressed concern about "unauthorized access to House office buildings," which has been a focus of Democrats who claim GOP members encouraged reconnaissance missions prior to January 6. They also requested information about the connection between the group and the January 6 Select Committee.
In a Fox News interview, Davis said he had information that staff members for Democratic Representatives Jake Auchincloss (MA) and Adam Schiff (CA) had let the group into the building for filming. CBS stated by email that the staffers had permission to be there, secured through Congressional aides, but the group didn't have permission to move about the facility without an escort. Rep. Davis noted that authorities had removed the staffers from the building earlier in the day for being disruptive. The group had conducted interviews and were shooting some additional segments in the halls at the time of the arrests.
During his June 20 show, Colbert addressed the scandal. He explained the staffers were filming a segment with interviews of various people at the Capitol. The talk show host also noted he wasn't surprised about the arrests because Capitol police have been more cautious than ever since January 6. Colbert called the legal situation "a very unpleasant experience."
Copyright 2022, USNewsBreak.com