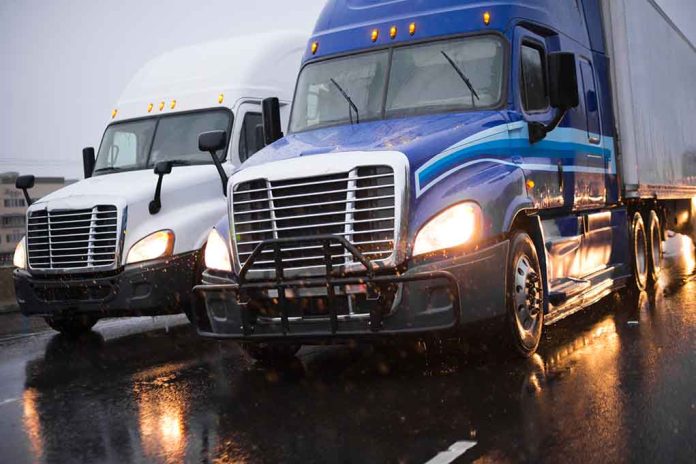 (USNewsBreak.com) – Sen. Dianne Feinstein (D-CA) has battled shingles and complications from the condition since February 27, causing her problematic absence from the Senate during critical committee and floor votes. On Wednesday, April 26, Senate Democrats faced another such vote regarding a Republican-led effort to stop a Biden administration rule passed in December 2022, forcing significant progressive cuts in emissions known as nitrogen oxides (NOx) from heavy trucks by 2045.
Senator Joe Manchin (D-WV) voted with Republicans to overturn the regulation using the Congressional Review Act, winning the vote to push back on the rule 50 to 49. In a floor speech Wednesday before the vote, Sen. Deb Fischer (R-NE) pointed to "inflationary burdens on the trucking industry" that would raise the cost of all goods transported by trucks and burden a struggling industry. Manchin shared his intentions to join Republicans in undoing the statute right before the vote, justifying his action by identifying the economic hardships the EPA is placing on the nation amidst supply chain crises and record inflation.
JUST IN: The Senate on Wednesday passed a Republican-led effort to undo a Biden administration rule that aims to cut pollution from heavy-duty trucks.https://t.co/9BFtbKDa12

— The Hill (@thehill) April 26, 2023
The EPA regulation, passed in December, would reduce NOx emissions by large trucks by as much as 50% by 2045. NOx are pollutants that contribute to acid rain, cause respiratory distress and asthma, and indirectly contribute to greenhouse gasses by converting to ozone through photochemical atmospheric reactions. The EPA claims rule enforcement will prevent up to 2,900 premature deaths and result in 18,000 fewer cases of childhood asthma annually by 2045.
Rep. Troy Nehls (R-TX) will introduce the legislation to overturn the EPA rule in the House, where observers expect a GOP majority will pass it. However, the White House has already signaled President Joe Biden will veto the bill to overturn the trucking rule. Congress would need a two-thirds majority in both houses to override Biden's veto.
While Feinstein remains absent, Republicans will continue using the Congressional Review Act to overturn Biden administration water regulations, environmental regulations, and more. House Majority Leader Steve Scalise (R-LA) told The Hill that GOP lawmakers would "like to see these radical regulations get overturned." Still, with both houses of Congress so evenly balanced, that goal might remain out of reach.
Copyright 2023, USNewsBreak.com