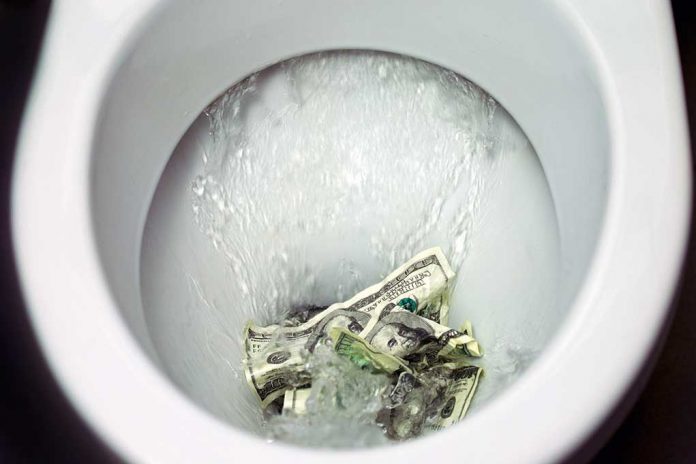 (USNewsBreak.com) – It is imperative to hold members of Congress to extremely high ethical standards. Without doing so, these representatives may falter. This can in turn raise questions about their integrity while also inspiring a lack of trust in their abilities. That's exactly what's happening to Eric Swalwell (D-CA) right now.
Records from The Federal Election Commission (FEC) recently reviewed by Fox News suggest that Swalwell misappropriated over $30,000 of second fiscal quarter campaign funds. Records show he spent the gains on luxury hotels, high-end restaurants, alcohol deliveries, wineries, flower delivery services, and limousines.
Swalwell, who is also a member of the House Intelligence Committee, most notably spent over $20,000 at Ritz-Carlton Half Moon Bay resort. His wife is the Director of Sales at the very same location.
Report: Swalwell Spent Over $30K in Campaign Funds on Limos, Meals, Alcohol https://t.co/I8yoz9ktga

— Kathlin Hawleys (@HawleysJadefav) July 21, 2021
House ethic rules say campaign funds may only be spent on expenses related to campaign activity. Members cannot use them for personal spending. While Swalwell may be able to explain some of his expenditures as campaign-related expenses, not all fall into this distinct category. Neither he nor any representative for him have responded to requests for comments.
Swalwell is no stranger to a scandal, either. Earlier in the year, photos emerged of him riding shirtless on a camel during a trip to Qatar which was originally intended to enhance the business relationship between the foreign country and the United States.
A late 2020 investigation also revealed his connection to an alleged CCP spy by the name of Fang Fang. This individual also helped raise funds for his campaign in 2014.
Republicans have already called for Speaker of the House Nancy Pelosi to remove Swalwell from the Intelligence Committee. However, she has yet to make a move. With this latest ethical violation, perhaps it is time for the Speaker to take a closer look.
Copyright 2021, USNewsBreak.com