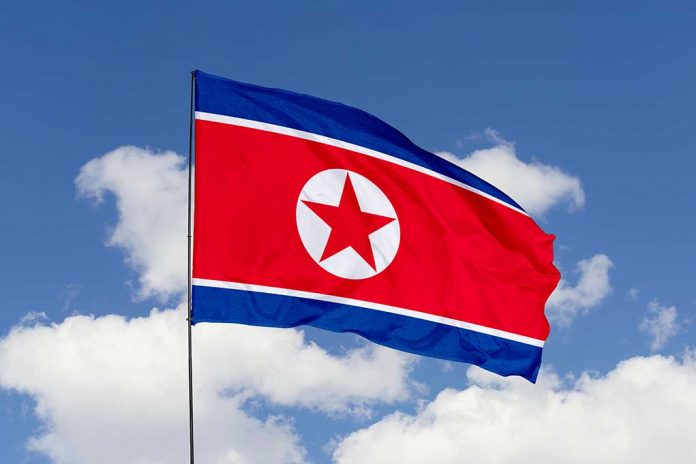 (USNewsBreak.com) – Tension between the United States and North Korea is nothing new, but a situation occurring right now within the communist nation is the last problem President Joe Biden needs. Unfortunately, while he's been working on the tragedy in the Middle East, North Korean leader Kim Jong Un has reportedly been undertaking operations that could spell trouble.
Could North Korea be building its nuclear stockpile in a move that would threaten all its adversaries including the US? If the deadly arms are in the works, what will Biden do?
Nuclear Evidence
Under the Trump Administration, Kim shut down operations at the country's nuclear reactor in Yongbyon around December of 2018. Nevertheless, intelligence from satellite images shows it's likely the plant started operating again in July of 2021.
According to the UN Atomic Watchdog, the images show evidence of operations along with proof of a nearby radiochemical lab extracting plutonium from the reactor waste. Most notably, they show cooling water coming from the plant.
While the country already has a nuclear weapons stockpile, the new production could mean North Korea is adding to its reserves. The move is a violation of United Nations Security Council resolutions.
Crafty Move
The main concern many people have is that Biden's moderate approach to talks isn't sitting well with North Korean leaders. They may be ready to seek action and willing to do what it takes to get it. According to Ewha Womans University professor Leif-Eric Easley, the country could use a missile test rather than head to the tables to negotiate. He thinks it's also possible the North Korean leader plans to use the plant as a bargaining chip when talks do resume.
Kim was unhappy with the deal former President Trump had proposed, although he did stop operations at Yongbyon. In January, Kim announced plans to build nuclear submarines and mini weapons. It's no secret North Korea is struggling at the moment with food shortages and other issues related to the pandemic. Just a few weeks ago, Kim's sister vowed that the country would enhance its preemptive strike capabilities following joint exercises between the US and South Korea. Could this be a sign that the leader is looking to strengthen his military against outside threats?
In any case, the news isn't good for Biden, who's struggling with various catastrophes back home. A White House official did say the advance indicates a need for urgency in communicating with the communist country, but the president is still waiting on a response to earlier requests for a meeting.
Copyright 2021, USNewsBreak.com