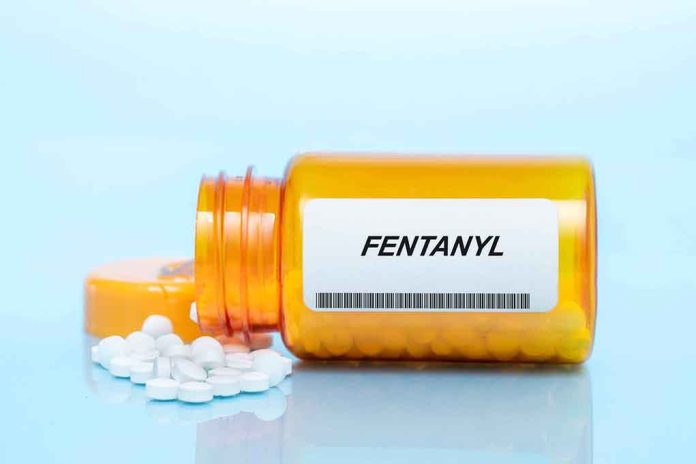 SICK Drug Discoveries Revealed – Children at Risk?
(USNewsBreak.com) – Customs and Border Protection Port Director Michael W. Humphries said a recent seizure in Arizona is a warning sign that drug traffickers may be targeting a younger audience. Port officials confiscated around 250,000 pills of rainbow fentanyl, along with pounds of methamphetamine and heroin, on August 16. Only a day later, they discovered over 15,000 more pills strapped to the leg of someone who was trying to get into the country.
The appearance of these drugs could make them look like candy, which could make them more dangerous to children. However, a USA Today report says some experts believe bad actors aren't necessarily targeting young people, but instead using different colors to differentiate between products.
8/17 CBP officers #Nogales POE seized over 15,000 fentanyl pills strapped to a person's legs. Second consecutive day colored fentanyl pills with the appearance of candy seized .This could be the start of a trend with Transnational Criminal Organizations targeting younger users. pic.twitter.com/y5KT5Zveop

— Port Director Michael W. Humphries (@CBPPortDirNOG) August 18, 2022
Nonetheless, the prevalence of rainbow-colored pills has been prompting warnings about the potential dangers to youngsters. And it isn't just a border issue. Officials in Oregon recently discovered the rainbow-colored drugs in their area, along with fentanyl that had the appearance of "sidewalk chalk," according to a press release reported by Newsweek. In Washington DC, authorities have reportedly been dealing with the multi-tinted substance for the past year and a half.
According to a report from Fox 5, Field intelligence Manager for the DEA in DC, Jennifer Lofland, explained tests show some of these pills contain more than one drug, including fentanyl, methamphetamine, and animal tranquilizers. She warned parents to make sure they tell their children never to take pills from anyone and be clear about the potential dangers. Lofland found this to be an especially important message right now given school is starting nationwide.
A report from KCRA also touches on the dangers of these pills, pointing that Northern California officials have been reaching out to schools, students, and parents to educate them on the issue.
Copyright 2022, USNewsBreak.com