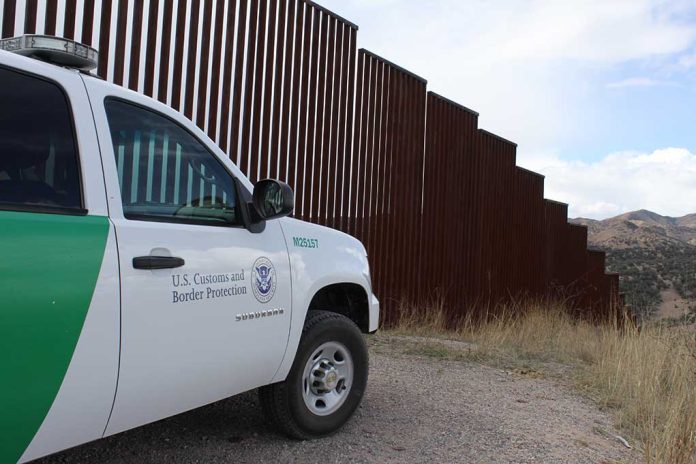 (USNewsBreak.com) – The federal government and Arizona have been in a dispute for months over the gaps in the state's border wall with Mexico. In October, the Biden Administration demanded Governor Doug Ducey (R) remove double-stacked shipping containers, accusing him of trespassing on federal land. Ducey responded by filing a lawsuit against federal agencies, asking the courts to clarify the "jurisdiction over land within the State of Arizona and a state's interests in protecting itself." The suit is still pending, and now, Ducey is on his way out. However, that hasn't stopped him from taking action.
Despite the number of attempts to make him stop — with environmentalist groups joining the charge as well — Ducey pushed forward with adding shipping containers to the border wall gaps. However, over the past week, protesters have made it increasingly difficult for workers to do the job.
Work crews have steadily erected hundreds of double-stacked shipping containers topped by razor wire along Arizona's remote eastern boundary with Mexico in a bold show of border enforcement by Republican Gov. Doug Ducey even as he prepares to leave office. https://t.co/dIvmjk61DI

— CBS Mornings (@CBSMornings) December 12, 2022
Protesters have shown up in recent days and kept crews from working in Santa Cruz and Cochise Counties. The local sheriff, David Hathaway, spoke to KTAR News' "The Gaydos and Chad Show," saying the workers attempted to come in late at night in order to avoid running into protesters during the day. He relayed his stance that "since there is no permit for this activity, it's illegal dumping."
The shipping containers will pose a conundrum for incoming Governor-elect Katie Hobbs (D), who has said she doesn't yet know what she'll do with them. She has been vocal about the progress, saying it's a poor use of the state's resources. Hobbs has posited using the containers for affordable housing solutions, according to a November report from AZ Central.
Copyright 2022, USNewsBreak.com