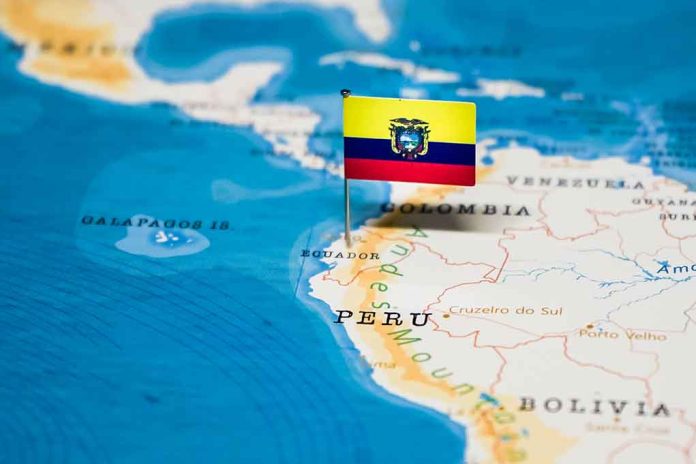 (USNewsBreak.com) – Several powerful earthquakes have hit numerous areas across the globe this year, including the devastating series that killed tens of thousands in Turkey last month. Since then, a few tremors exceeding 6.0-magnitude have hit Papua New Guinea, Indonesia, and New Zealand. The latest took place over the weekend just north of Balao, Ecuador.
On Saturday, March 18, a 6.8-magnitude earthquake shook northern Peru and Southern Ecuador, causing massive damage that left at least 15 people dead, more than 400 injured, and many others trapped under rubble in the South American countries. Most of the deaths came in Ecuador, while one person, a 4-year-old girl, died in Peru when her home collapsed.
Earthquake leaves more than a dozen dead, others trapped in South America https://t.co/qjmFLhD9S3

— Newsweek (@Newsweek) March 19, 2023
In El Oro, Ecuador, many victims remained trapped in Machala, where a building cracked, sending down debris, trapping people and collapsing a pier. A two-story home also caved with its occupants inside. There's no estimate as to how many remain under the rubble. Firefighters and national police are out trying to locate and rescue people who need help, but notable obstacles, such as downed power lines, are hindering their efforts. Ecuadorian President Guillermo Lasso said he would visit the area. He also shared in a video statement, per Reuters, that the areas "have [his] full support to repair all the damage as soon as possible." He noted that the ministry of finance has already allocated the funds necessary.
While strong earthquakes can trigger tsunamis, AP News reported that the Adverse Events Monitoring Directorate of Ecuador said no such threat exists with this event. However, the country has other losses to worry about, particularly in the oil industry. Electrical failures and damage to machinery have resulted in a reduction in production, which could harm the economy.
According to Reuters, the Risk Management Secretariat was onsite near the epicenter to determine the level of need and deliver appropriate aid. Ecuador has also been hit by heavy rains recently, which has caused serious damage to critical infrastructure in the country.
Copyright 2023, USNewsBreak.com