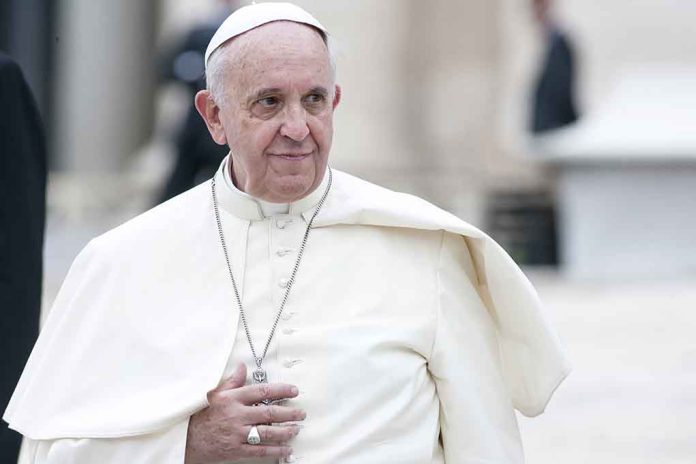 (USNewsBreak.com) – Pope Francis I was elected in 2013, following the resignation of Pope Benedict XVI. Due to his predecessor's health issues, some people were worried about the 76-year-old newcomer's wellbeing. Still, some people might be surprised to know that immediately after his election as pontiff, Pope Francis had signed his own resignation letter.
The move wasn't meant as a formal notice of leave. Rather, the pontiff was preparing for a time in the future when he might be unable to perform his duties. Speaking to Spanish newspaper ABC, Pope Francis answered a reporter's question about what would happen should he become ill. He said he "already signed my renunciation." He then gave it to Cardinal Tarcisio Bertone, the then-Vatican secretary of state.
Globalist Pope Francis Reveals He Signed Resignation Letter Just in Case… https://t.co/ktQdhRgnzw

— The Gateway Pundit (@gatewaypundit) December 19, 2022
Nine years later, the pontiff has yet to use the letter, though it seemingly still remains in the current secretary of state's possession. Pope Francis underwent bowel surgery last year and has a long history with sciatica. Over the last year, he has also struggled with pain in his knee and, on a few occasions, canceled events because of it. According to The Guardian, when talking about his knee pain, he shrugged it off, saying he didn't rule with his knee — but it did confine him to a wheelchair for several months.
Pope Francis is now 86 years old and has continued carrying out his duties. He's made a name for himself by promoting equality for all. There may come a time when he needs to use that letter, but for now, it seems he's not ready to step back from the position.
Copyright 2022, USNewsBreak.com