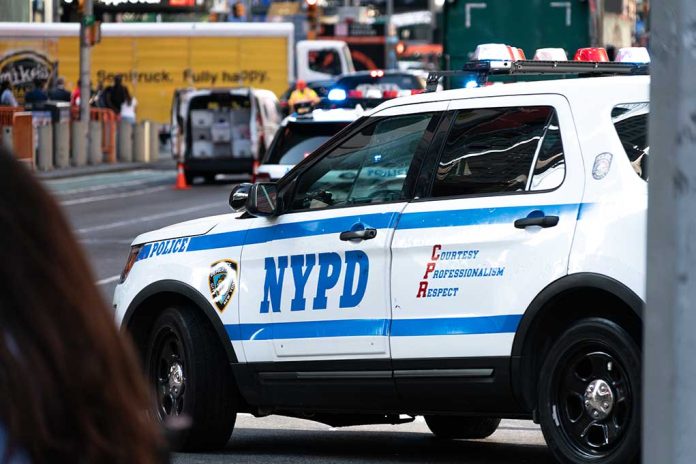 (USNewsBreak.com) – In April 2022, two New York City police officers (NYPD) were transporting prisoners to central booking when an SUV swerved in front of them. In an attempt to avoid the vehicle, they hit a homeless man, 54-year-old Ronald Anthony Smith, who was standing on the Eastern Parkway median. Smith died from his injuries, prompting an investigation into his death. On May 22, the New York Attorney General's office revealed it would not be pursuing charges.
Officers Evan Siegel and Orkhan Mamedov have been cleared of any wrongdoing in the fatal encounter after a comprehensive investigation. In its report, the Office of Special Investigations (OSI) reviewed the events of the April 7, 2022, accident. The office cleared up a number of concerns including whether one of the officer's cell phones was playing a live soccer game while they were driving. It also noted that the passengers in the back were unruly and not properly restrained in a manner that those being transported in police custody should be.
In the end, the OSI could not prove "beyond a reasonable doubt" that the NYPD officers were criminally negligent. The attorney general's office said the man's death "was a horrible and unintentional tragedy."
The AGs office did release some recommendations to help prevent future occurrences, which include:
Conducting sobriety tests on officers immediately after an accident.
Making sure officers who transport prisoners are appropriately equipped for the task.
Implementing higher safety and security measures for transporting those in custody.
Foregoing transportation as an emergency measure unless a supervisor authorizes the action.
Smith's family was outraged at the decision. His sister, Julie Floyd, spoke with CBS News New York and said her brother "committed no sin. He committed no crime." She went on to call for the police department to fire the officers "because through their own negligence, they killed [her] brother." The family is considering taking legal action against the force but is waiting to see what the Civilian Complaint Review Board Investigation uncovers.
Copyright 2023, USNewsBreak.com