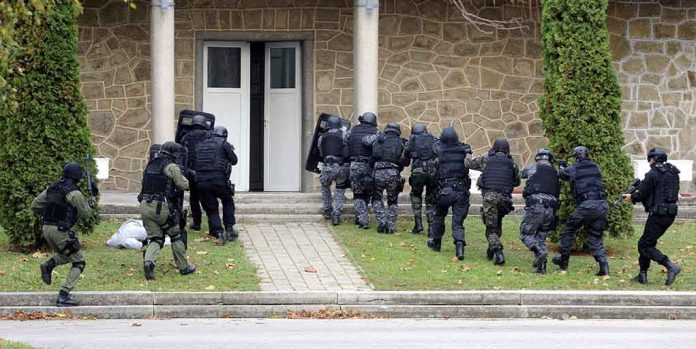 (USNewsBreak.com) – During the course of some police investigations, a specialty team can become necessary to help apprehend a suspect. Before a raid, law enforcement typically goes over the game plan and ensures teams have the facts correct on the home they're going to breach and the target they have in their sights. However, as one incident in Galveston, Texas, proved recently, sometimes things go very, very wrong.
On January 22, a SWAT team looking for 17-year-old Cameron Vargas, who was suspected of murdering a 25-year-old, raided a Texas home. But after sending rubber bullets through windows and doors, forcing their way into the home, and evacuating a sleeping family, authorities realized they had the wrong house.
Erika Rios was sleeping in the residence with three children: her 16-year-old son, 18-year-old daughter and her daughter's friend, when the incident happened, causing them all to panic. The teens were reportedly marched out barefoot, over broken glass, and needed medical attention.
In the end, officers caused thousands of dollars of damage to the house they wrongly raided. The police chief, Doug Balli, went on a 10-day administrative leave as the city investigated how authorities made such a mistake.
Galveston Police Chief Doug Balli has been placed on administrative leave after a SWAT raid to the wrong house led to a teen falsely accused of murder. https://t.co/sWmDnMgjpn

— FOX26Houston (@FOX26Houston) January 30, 2023
Following the mishap, authorities did not notify the proper officials, according to City Manager Brian Maxwell, who spoke to The Daily News. Nor did anyone reach out to Rios about the damage done to her house. Maxwell assured her the city would cover the costs to repair her home, but she needed to fill out forms at the city's risk management office.
Police eventually arrested the intended suspect on January 23, but news emerged that officers falsely identified the person and wrongly charged him with the crime. He was released on January 25.
Copyright 2023, USNewsBreak.com