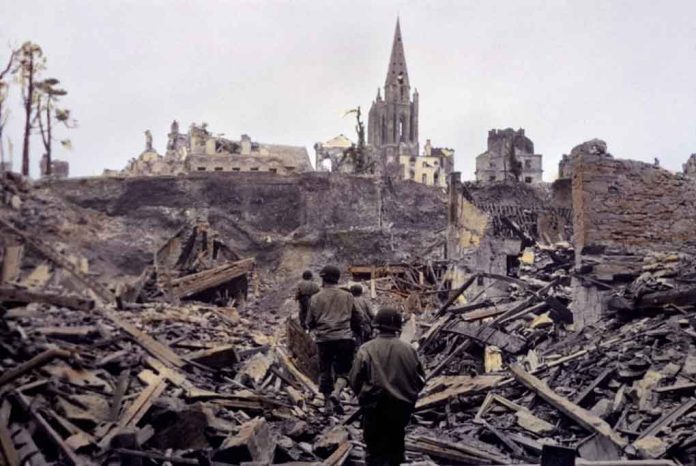 WWII REPARATIONS Request – After All These Years!
(USNewsBreak.com) – It's been 83 years since the Nazis invaded Poland, leading to the death of about six million citizens. Now, the Poland is ready to seek compensation for the destruction caused by World War II. On September 1, Polish Deputy Prime Minister Jarosław Kaczyński announced the government plans to ask for around $1.29 trillion from Germany for reparations. He noted that he wishes to negotiate with the other nation on the payment.
Kaczyński called the figure a conservative estimate while speaking at a press conference. It marked the first time the ruling party, Law and Justice, has officially asked for reparations since taking power in 2015 despite consistent rumblings they wanted a payout. The leader of the opposing Civic Platform party, Donald Tusk, called the move a political show to gain supporters, Reuters reported.
#UPDATE Poland's government has estimated the financial cost of World War II losses at 1.3 trillion euros (dollars) and said it would "ask Germany to negotiate these reparations".

Deputy Prime Minister Jaroslaw Kaczynski has said it would be a "long and difficult" process. pic.twitter.com/m7wcdXuG84

— AFP News Agency (@AFP) September 1, 2022
The financial report that led to the decision to seek reparations explained losses to farming, infrastructure, and industry, among others. Kaczyński noted Germany committed war crimes during WWII and must make amends.
Reuters reported that German government representatives have stated in the past that the nation cleared all WWII debts and owed nothing more. Meanwhile, according to AFP, German leadership considers the possibility of reparations "closed."
Poland agreed to waive all payments for the war in 1953. But current leaders say the agreement was unfair as the nation had no room to negotiate because it was under pressure from the Soviet Union.
Copyright 2022, USNewsBreak.com