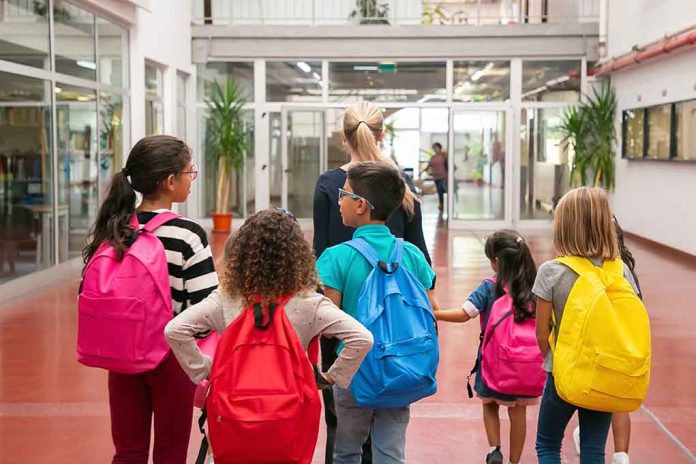 (USNewsBreak.com) – In the wake of increasing school violence, some officials have gained permission to open carry on premises. This is the case at Rising Star Elementary School, where both the superintendent and the principal have their weapons on them. Despite that, a recent incident at the institution reportedly has parents concerned.
In January, a third-grade student went to the restroom, where he found a gun in one of the stalls. He informed a teacher of the weapon's location and stated he hadn't touched it. The gun ended up belonging to Superintendent Robby Stuteville. He said he had unholstered the weapon and placed it in a stall, where it remained unattended for approximately 15 minutes.
Stuteville praised the student for doing the right thing in reporting the incident and has since said he will no longer be bringing the weapon to school.
Texas 3rd-grader finds superintendent's gun in school bathroom, parents voice concerns https://t.co/FqMPQBWf4x pic.twitter.com/wNnUrxMuv2

— The Hill (@thehill) February 20, 2023
The incident, however, has parents concerned about the lack of disclosure. They reportedly remained in the dark for over a month. The school held an emergency meeting on Thursday, February 16, where 30 parents showed up to discuss the matter. While they made it clear they don't believe Stuteville intended for anything bad to happen, one parent said they were concerned they "had to find out about it through the news," which gave the impression that the school had "something to hide," according to KFOR.
Parents have asked that this issue be brought up at the next school board meeting along with the fact that there have been several rumors circulating that they feel the school should have also addressed.
Don Braly, the Rising Star Police chief, confirmed to KTAB that law enforcement opened an investigation into the incident following the revelation. When asked if there would be legalities for a failure to report, he responded that he was looking into the matter.
Copyright 2023, USNewsBreak.com