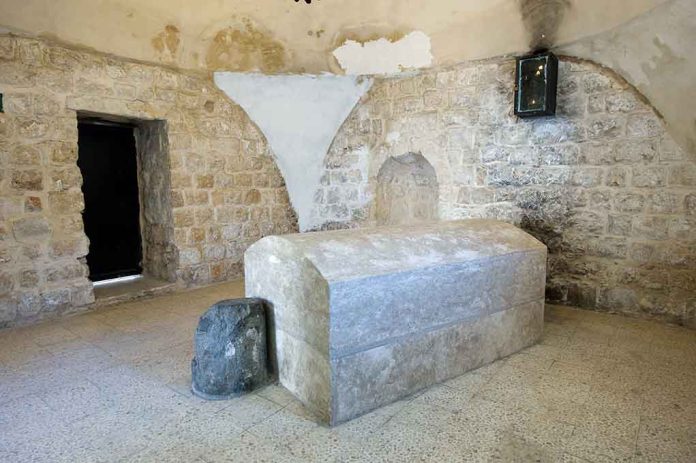 (USNewsBreak.com) – Palestinians allegedly vandalized a tomb some historians believe was that of Joseph from the Bible. The first incident occurred on the evening of April 9 during raids by Israel on the West Bank, while a second larger incident occurred the following night. The tomb is in Nablus, an area in Palestinian territory but occupied by Israel since 1967.
Palestinians attack biblical figure Joseph's tomb in West Bank https://t.co/BO3EsfzZLB

— BBC News (World) (@BBCWorld) April 11, 2022
The Israel Foreign Ministry released a video showing the first attack and damage to the tomb. It appeared to be broken or smashed in some areas with fire damage or charring.
On Friday, tens of thousands of Muslims prayed in Jerusalem on Ramadan. On Saturday, Palestinian extremists vandalized the holy site of Joseph's Tomb

Israel is committed to peaceful coexistence and to freedom of worship. Extremists must be shunned and condemned pic.twitter.com/i0ogw22YKG

— Israel Foreign Ministry (@IsraelMFA) April 10, 2022
The Ministry blamed the incident on extremists. The BBC reported on April 11 that Palestinian forces detained the suspects who were allegedly involved in the first vandalism. The second incident on Sunday night reportedly involved about 100 Palestinians who broke into the site and set it on fire. Palestinians had attacked it twice before, in 2000 and 2015.
The Times of Israel reported two Jewish men, who said they came to fix the damage, suffered wounds from being shot when trying to get to the area on April 11. However, construction teams arrived on April 13  and managed to restore the site.
The tensions between the two nations are on the rise due to recent conflicts between them, which have led to many deadly incidents. These incidents include a shooting at a Tel Aviv bar on April 7, which resulted in three deaths and numerous injuries.
Copyright 2022, USNewsBreak.com