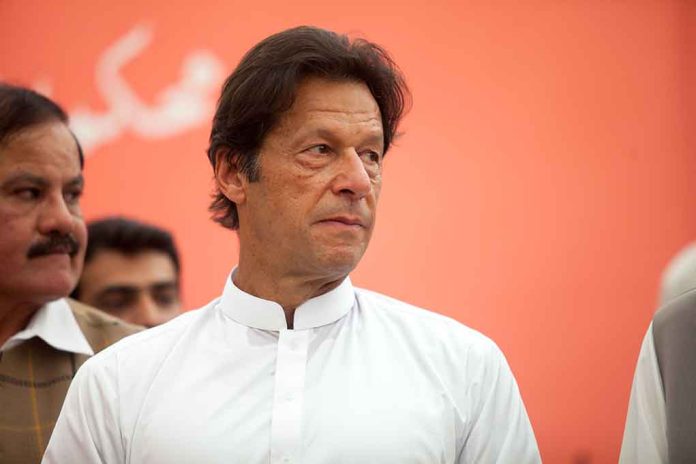 Terrorism CHARGES – Ex-World Leader Lands in Hot Water!
(USNewsBreak.com) – Police in Islamabad filed terrorism charges against Pakistan's former Prime Minister, Imran Khan, for inciting violence during his attempted return to power. Khan, head of the Pakistan Tehreek-e-Insaf (PTI) party, will avoid being arrested momentarily while the country's legal system moves forward.
The terrorism charges came over a speech Khan gave in Islamabad on Saturday in which he vowed to sue police officers and a female judge and alleged that a close aide had been tortured after his arrest. https://t.co/P230wo6l2s

— CBS News (@CBSNews) August 22, 2022
Khan stands liable of inciting a mob with dangerous and derogatory anti-government rhetoric. Pakistan's military has a historically strong influence on the country, which causes politics to seep into its ranks. According to reports, the former Prime Minister made threats against police officers and a female judge, saying he would sue them. He also claimed that when one of his political aides was arrested, he was tortured.
Khan lost his power in a constitutional crisis of his own making in April. The former leader had reportedly attempted to subvert the country's electoral process when it appeared he had little chance of keeping his grip on the office. In a move ultimately reversed by the Muslim nation's high court, Khan dissolved Parliament and called for early elections. An overwhelming vote of no confidence removed him. However, he has repeatedly blamed the US and Pakistan's current leadership, claiming they worked together to push him out of power.
In Pakistan, authorities first present a case to a magistrate, who rules on whether or not charges will stick. At that point, the investigation can continue, and the suspect gets booked. The jurist, in this instance, granted Khan a three-day protection from arrest, keeping police at bay while his team fights the warrant in court.
Authorities are also weighing whether or not to file contempt charges against Khan. He's expected to appear in court at the end of the month.
Copyright 2022, USNewsBreak.com