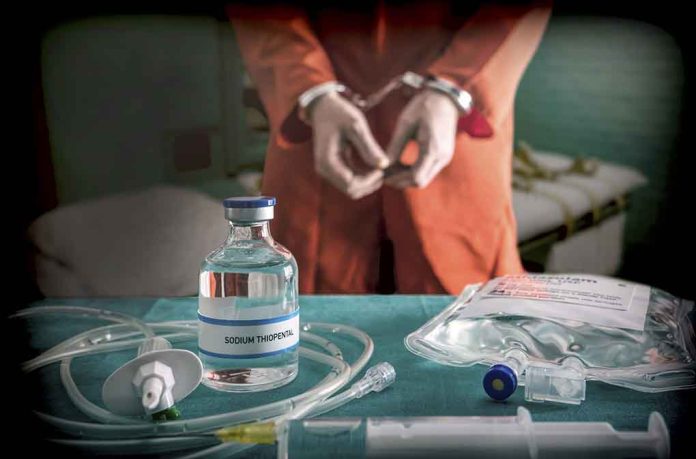 This State's New EXECUTION Plans Have Gone Public
(USNewsBreak.com) – After six years on hold, the death penalty will resume in Oklahoma. On June 6, Federal Judge Stephen Friot ruled Oklahoma's three-drug lethal injection does not violate the constitution. The state currently has 43 people on death row, and on July 1, the Oklahoma Court of Criminal Appeals set execution dates for 25 of those convicts.
After Federal Judge Upholds Lethal Injection Protocol, Oklahoma Makes Plans to Execute One Person Nearly Every Month Through 2024https://t.co/9PX2AbJRjo

— Law & Crime (@lawcrimenews) July 5, 2022
The first execution will occur on August 25, when the state puts James Allen Coddington to death for the 1997 murder of Albert Hale. Next will come Richard Eugene Glossip, who has two death sentences for the 1997 murder of Barry Van Treese. Glossip's scheduled date is September 22.
Benjamin Robert Cole's execution is set for October 20. Cole received the death sentence for the murder of his daughter, Brianna Cole, in 2002. Another child killer, Richard Fairchild, will face the death chamber in mid November. He beat to death 3-year-old Adam Broomhall in 1993.
To finish off 2022, the state will execute John Fitzgerald Hanson on December 15 for the 1999 killing of Mary Bowles. The first date set for 2023 will have Scott James Eizember going to the death chamber in January. He received his sentence for murdering AJ Cantrell in 2005.
The state will continue to carry out sentences by lethal injection almost monthly, with only occasional breaks between August 2022 and December 2024.
What do you think of the death penalty?
Copyright 2022, USNewsBreak.com