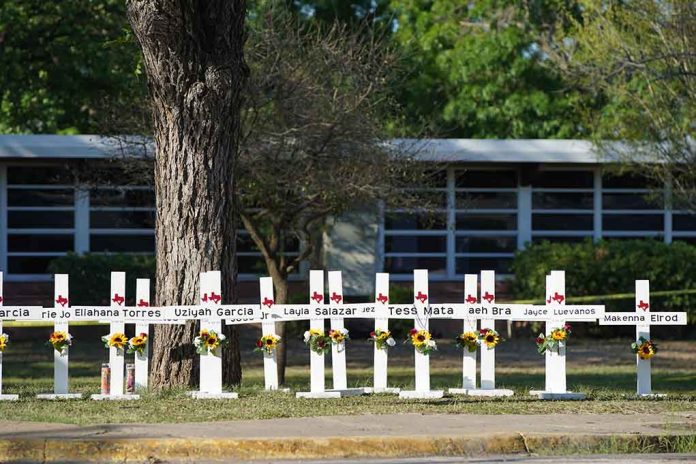 Officer Involved in Uvalde Shooting Response Gets Fired
(USNewsBreak.com) – The tragic school shooting in Uvalde, Texas, remains a talking point regarding securing educational facilities. But the Uvalde Consolidated Independent School District (UCISD) is back in the headlines after a report revealed one of the officers under investigation for the failed response to the Robb Elementary incident had been a recent hire. In a statement, the UCISD said the person in question is no longer on the payroll.
Uvalde school officer who responded to shooting fired after CNN report https://t.co/vOGdL4d6KQ pic.twitter.com/YCuVsRzN6Y

— New York Post (@nypost) October 7, 2022
CNN revealed that Crimson Elizondo, who was a state trooper at the time, was one of the officers under investigation for their response at Robb Elementary. She was reportedly one of the first officers to report to the elementary school on the day of the shooting. She and 376 other law enforcement officials stayed in the hallways for over an hour as the suspect continued to gun down and kill 21 people inside classrooms.
Videos of the inaction that day show Elizondo outside and in the hallways. Body camera footage also allegedly revealed the officer saying she would have reacted differently if her son had been in the building that day.
Parents recognized her from the recordings when they took their children to school. They questioned her ability to offer protection for their children. One parent spoke to ABC News, expressing frustration that the district didn't do a thorough background check on the new officer.
After the story broke, the UCISD issued a statement saying it had fired Elizondo. The letter explained her actions and comments did not reflect the district's mission, and the district apologized to parents and students for any harm her presence on campus caused.
Following Elizondo's termination, the school district made the decision on October 7 to suspend all officers in the force after stating other concerns arose about the department during the inquiry. Uvalde school district Superintendent Hal Harrell has also announced that he will be retiring.
Copyright 2022, USNewsBreak.com