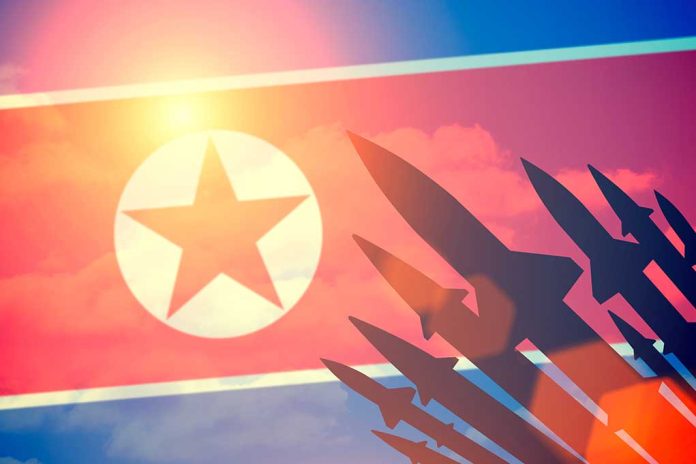 North Korean Officials Slapped With Sanctions Over Missile Tests
(USNewsBreak.com) – On November 18, North Korea test-fired an intercontinental ballistic missile (ICBM) that flew about 620 miles at a maximum altitude of approximately 3,750 miles. According to Reuters, Japanese Defense Minister Yasukazu Hamada stated that the missile's full capabilities are far greater, with a range that includes the American mainland. The US and its allies in the region responded swiftly.
North Korea: US, South Korea, Japan impose sanctions following ICBM test https://t.co/5A1PMCvOxr pic.twitter.com/lmDuqfPel4

— JAJA (@JajaAgpalo) December 2, 2022
On December 1, the US Treasury Department named North Korean officials Jon Il Ho and Yu Jin as major players in the country's development of weapons of mass destruction. Additionally, Kim Su Gil, the former head of the Korean People's Army General Political Bureau, reportedly oversaw the needs of the WMD program. The three had their US-based holdings frozen, which according to Reuters, "appears largely symbolic." Officials from the rogue state are unlikely to have any US assets or contact with American persons.
In a statement, Secretary of State Anthony Blinken said the sanctions are part of a broader program to halt the North Korean long-range missile program. The secretary noted that Pyongyang's 60 missile tests in the past year "pose grave security risks to the region and entire world."
Blinken stated that Japan and South Korea were in line with the US sanctions. European Union sanctions are also in place for the three weapons officials.
North Korea also drew attention on December 5 for firing around 130 artillery shells into the sea. According to South Korea, this was in violation of a 2018 agreement between the countries.
Copyright 2022, USNewsBreak.com