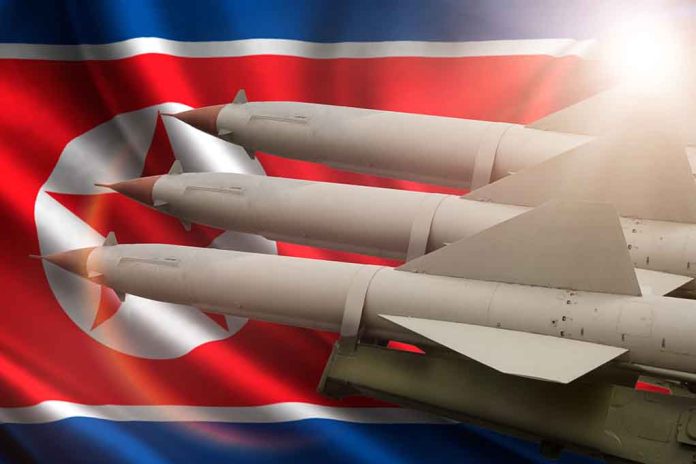 (USNewsBreak.com) – North Korea has been launching missile tests at an increasing rate for the last two years. This past weekend was exceptionally busy. On Saturday, February 18, its military fired a long-range intercontinental ballistic missile (ICBM) into the ocean near Japan. Then, on Monday, February 20, it fired two short-range ballistic missiles into the Pacific Ocean. These latest tests have raised the ire of both the United Nations and the US National Security Council (NSC).
In response to its latest launches, United Nations Secretary-General António Guterres issued a rebuke. He demanded North Korea stop its provocations. The NSC also issued a statement calling the Asian country's actions "a flagrant violation of multiple UN Security Council resolutions," according to The Hill.
Reports say that North Korea fired back at Guterres in a statement, calling his reaction "extremely unfair." Kim Son Gyong, who is the country's vice foreign minister for international bodies, accused Guterres of embarking on a "rampage of illogical and miserable remarks" that compare to those of officials from the US State Department.
North Korea: UN chief's rebuke of missile test shows he has "extremely unfair" attitude https://t.co/4CgQ9RRXS1 pic.twitter.com/ddvYihARy1

— The Hill (@thehill) February 22, 2023
There is no love lost between North Korea and the United Nations. The two have been exchanging comments for months. Last November, Choe Son Hui, the country's foreign minister, referred to Guterres as a United States "puppet." This sentiment echoes those of North Korea's vice foreign minister for international bodies, Kim Son Gyong, who said the UN's statements resemble those of the US.
North Korea insists that its actions are in direct reaction to the joint military operations — which have been taking place for years — between the US and South Korea, which it views as a threat of invasion. In a recent parliament meeting, South Korea warned that its neighbor would likely escalate following this spring's drills, by launching another ICBM or a spy satellite, or even conducting a nuclear test. The country has also issued further sanctions against North Korea, targeting five institutions and four individuals.
Japan is also concerned about the recent missiles, particularly the one fired into the waters off its coast. Officials have requested the UN Security Council conduct an emergency meeting regarding the matter.
Copyright 2023, USNewsBreak.com