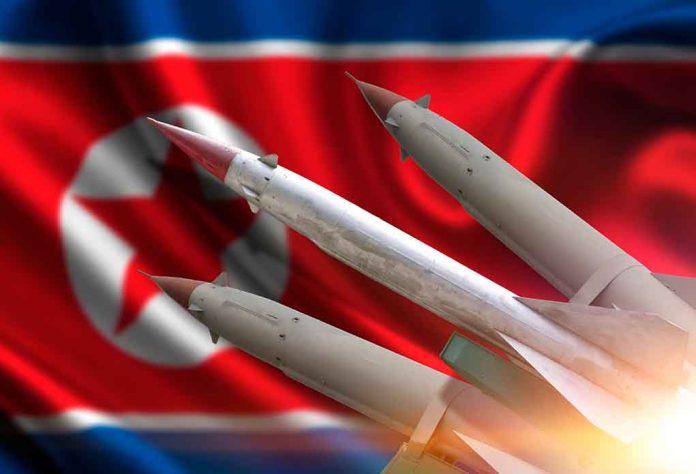 Kim Jong Un Prepared to Use Nuclear Force – Are We in Danger?
(USNewsBreak.com) – On July 27, North Korea's Supreme Leader Kim Jong-un gave a fiery speech at the 69th-anniversary event honoring Korean War veterans. After praising citizens who fought in the country's military, the dictator turned to talking about the United States and South Korea. In the speech, he claimed the country is ready to use nuclear force.
Kim Jong-un says North Korea ready to mobilise nuclear forces https://t.co/E9ToSfiaTJ

— BBC News (UK) (@BBCNews) July 28, 2022
Citing America as a hostile and arrogant nation, the leader said the western country wants to threaten the development of North Korea. Jong-un declared the US used aggressive actions and intimidation to make him look bad, noting he could no longer stand by idly and let the behavior continue.
Kim stressed a need to increase defense abilities, including implementing a robust nuclear strategy. The Asian leader explained North Korea is ready to deploy such weapons and will strike back should tensions escalate to military action. He also spoke of the current issues with South Korea, which he feels is becoming too bold, warning northern troops could easily wipe out those of the southern neighbor.
During a press conference this week, UN Secretary General, Farhan Haq said the UN is opposed to "any rhetoric" related to the use of nuclear weapon. He said the organization is still open to talks on denuclearization.
There have already been concerns that Kim will conduct a seventh nuclear test soon. The exercises have become more common as a show of the military's capabilities and to serve as a warning to the other nations. But the leader contended in his speech that the US is blowing the situation out of proportion. The dictator said these are typical defense operations and nothing out of the norm.
Copyright 2022, USNewsBreak.com