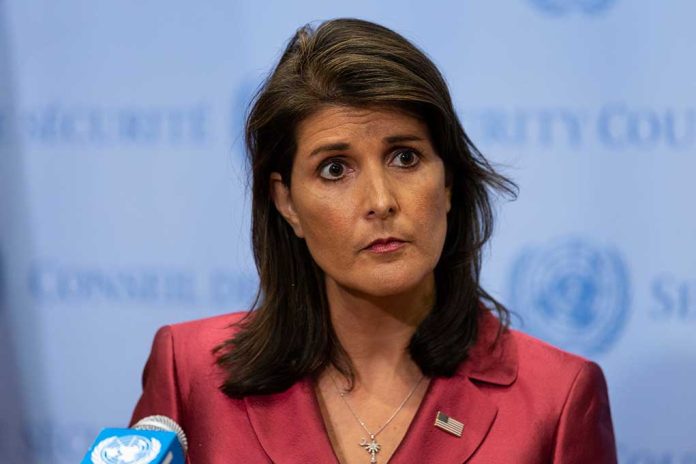 (USNewsBreak.com) – The 2024 presidential election is nearly two years away, but the candidates are far from finalized. The only person who has formally announced their bid for the White House is former President Donald Trump, who made his intentions clear last November. Since then, nobody else has come forward to challenge him, though some people have speculated Florida Governor Ron DeSantis (R) might do so. Now, it appears that Trump may finally have some competition.
There have been rumblings that former South Carolina Governor Nikki Haley (R) plans to throw her name in the hat. USA Today reported that several sources close to Haley say she'll announce her bid on February 15 in Charleston. Recently, she also took to Twitter, saying, "It's time for new leadership."
It's time for a new generation.
It's time for new leadership.
And it's time to take our country back.

America is worth the fight—and we're just getting started. pic.twitter.com/L93Q6WirzD

— Nikki Haley (@NikkiHaley) January 21, 2023
Haley presents herself as a true representation of the American dream. Her parents are immigrants from India, and she succeeded as a college graduate and business owner before heading into the realm of politics. She first served in the South Carolina legislature as a representative of the state's 87th district from 2005 to 2010. In 2011, she became the first female governor of South Carolina. She held this position until 2017, when Trump appointed her as US Ambassador to the United Nations. When she left that role in 2018, she created the political action committee "Stand for America."
If Haley formally announces her run and survives the primaries, she would be the Republican Party's first South Asian and female nominee. She has painted herself in a different light, as someone who can successfully take on President Joe Biden and the Democrats. She may have an uphill battle ahead of her, though.
Trump still appears to have support within the Republican party, as suggested in recent polling. One Morning Consult survey from early January showed Trump had the support of nearly half of participants, while DeSantis, former Vice President Mike Pence, and Haley trailed far behind. However, a different poll from The Wall Street Journal in December pitting Trump and DeSantis against one another showed the latter taking the lead, so it may be too early to predict what's to come if other Republicans decide to run.
What do you think of the possibility of Haley as a candidate?
Copyright 2023, USNewsBreak.com