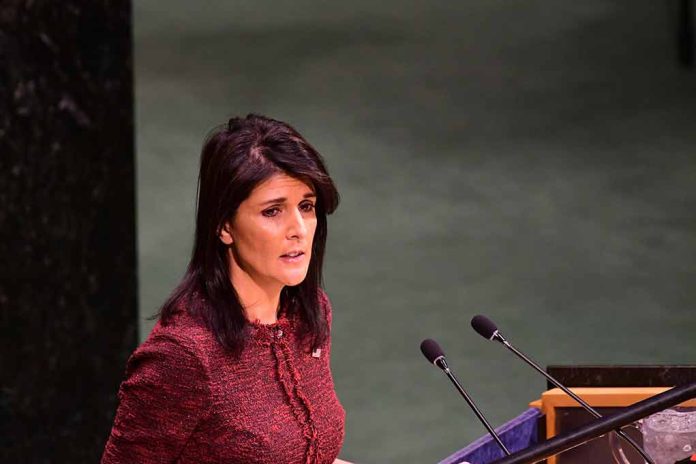 (USNewsBreak.com) – GOP presidential candidate Nikki Haley isn't afraid to make waves. She hit the campaign trail and attended the first Republican primary debate with a clear-cut agenda in mind, and has no problem taking aim at either her competition or current lawmakers. Now, she's gaining attention for her thoughts on mental competency tests and term limits.
On Sunday, September 3, Haley appeared on CBS' "Face the Nation" with host Robert Costa. He asked her about a statement she initially made back in February, about the possibility of testing politicians over the age of 75. The former South Carolina governor stressed that it's not coming from a place of disrespect. Rather, "They need to let a younger generation take over."
"I think there should be mental competency tests," @NikkiHaley says, even if it's "for the entire Congress."

"These are basic tests…These are, tell us where you were born, name four words that start with the same letter, how many grandchildren do you have?" pic.twitter.com/1uTQIuWlSC

— Face The Nation (@FaceTheNation) September 3, 2023
Haley was quick to point to several politicians, including President Joe Biden, Senators Mitch McConnell (R-KY), and Dianne Feinstein (D-CA), all of whom are over 75. Feinstein and McConnell have had worrying health issues over the last month. The California senator, who is 90 years old, missed several months of work due to shingles and faced increasing scrutiny upon her return. McConnell, 81, suffered a fall in March which gave him a concussion and kept him from Capitol Hill for several weeks. He's recently experienced two concerning moments at a podium where he seemingly froze up and needed his aides to intervene.
Then, there's Biden, who is running for a second term. He is currently 80 years old and if he were re-elected, he would be 86 by the end of his term. While he appears to be in good physical fitness — he's regularly seen exercising — some critics have called his mental capacity into question.
For these reasons, Haley questioned: "At what point do they get it's time to leave?" She said that Americans don't want forever politicians who get "drunk on the power," but who know when "it's time to step away."
Copyright 2023, USNewsBreak.com