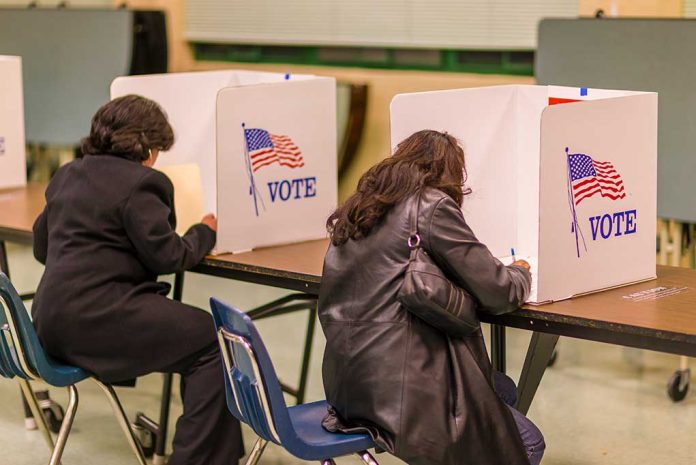 New Survey Exposes Major Concerns of Voters
(USNewsBreak.com) – The United States is experiencing a deep divide between liberals and conservatives. Finding common ground is becoming difficult, which is beginning to take a toll on voters. The latest findings from a Reuters/Ipsos poll show many people fear violence after the midterm elections from extremists and worry about intimidation at the voting booth.
Officials in Arizona, a key battleground, have already asked the federal government to probe a case of possible voter intimidation, after people casting ballots were conspicuously filmed and followed. https://t.co/Zlhg25FUqj

— Yahoo News (@YahooNews) October 26, 2022
The poll, conducted between October 18 and 24, targeted 4,413 registered voters. About 49% expressed concern about election fraud, and 43% revealed fears of violence or intimidation at the polls. A major worry for the respondents was over what might happen after the election, when results might leave some people unhappy. About 67% feel extremists may react with ferocity, leading to unrest.
Roughly 75% of people said they believed there would be no issues with accurate ballot counting. One in 10 Democrats and one in four Republicans question whether the system will work as it should.
The stark division between parties has bled into economic, political, and social issues alike. Making matters more complex, voting laws have become more controversial than ever in the wake of the 2020 election. One expert, James Madison University professor Ben Blankenship, said in a news release that a lack of confidence in the process isn't necessarily new, but that most people used to react with "apathy" rather than "opposition to results."
Early voting has already started across the country. In Arizona, there was an accusation of intimidation due to people recording voters turning in ballots, but otherwise, no major issues have been reported so far.
Copyright 2022, USNewsBreak.com