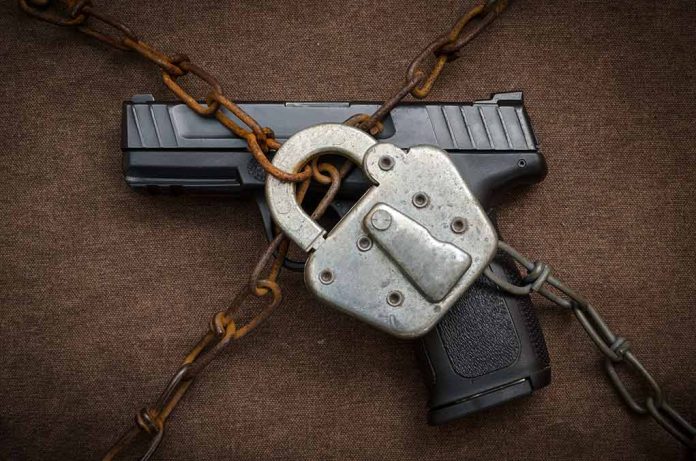 (USNewsBreak.com) – Rising crime, particularly violence, has become an issue nationwide. State leaders are trying to come up with solutions to curb the behavior. One governor has recently come under fire for how she approached the problem — even from her own party.
On Thursday, September 7, New Mexico Governor Michelle Lujan Grisham issued an executive order effectively banning public carry, even for those with permits. Her decision followed the death of an 11-year-old boy cut down by gunfire after leaving a baseball game. She also cited several other children who died in the state before that evening. The governor anticipated the ban to last 30 days, through October 6, but she indicated she reserved the right to revisit that date as it approaches. It would have applied to Albuquerque and its surrounding county, but was partially blocked by a judge days later.
Today I issued a 30-day ban on the open & concealed carrying of guns in Albuquerque and Bernalillo County. Gun violence is killing between 2 and 3 children every month in NM – every single one of these deaths is unconscionable and they must stop. https://t.co/KJdXUMBVaG

— Governor Michelle Lujan Grisham (@GovMLG) September 9, 2023
Lujan Grisham outlined her reasons for issuing the executive order on social media platform X, formerly Twitter, and said she will continue to fight "for public safety." Several law enforcement heads said they wouldn't enforce the measure.
Lujan Grisham's move met considerable backlash, and even fellow Democrats comprised part of the resistance. Rep. Ted Lieu (D-CA) spoke out on X, saying that no public health emergency exists that would provide an "exception to the U.S. Constitution." David Hogg, a prominent gun control activist, agreed with Lieu. However, Lujan Grisham is continuing to stick by her order despite the fact that a gun rights group in Albuquerque has issued a legal challenge to her order. In response to Lieu, she said she has jurisdiction over both open and concealed carry laws.
Republican State Representatives John Block and Stefani Lord are calling for the governor's impeachment for the "abhorrent attempt" to restrict "the rights of law-abiding gun owners." The NRA also jumped on the criticism bandwagon, according to Fox News, and said she should focus her attention on "soft-on-criminal policies" putting New Mexico residents in danger.
On September 13, news outlets reported that a judge blocked part of the order amid the backlash.
Copyright 2023, USNewsBreak.com