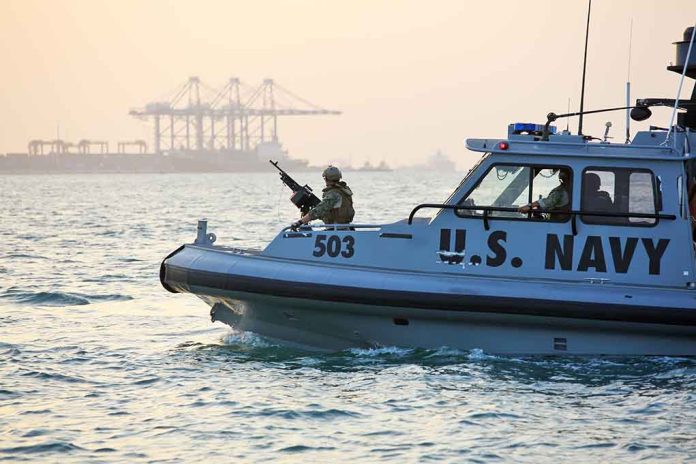 (USNewsBreak.com) – The United States Navy (USN) has a very important job. In addition to keeping the waters around the US safe and secure, members also regularly patrol international waters. In doing so, they pay close attention to other vessels, sometimes intercepting them, particularly if they appear to be carrying out suspicious tasks. That's exactly what happened last week, and it resulted in the seizure of a fishing boat, its crew, and their weapons.
On Friday, January 6, the Navy was patrolling the Gulf of Oman along a route commonly known for illegal trafficking. There, the USS Chinook stopped a fishing vessel with the help of USS Monsoon and USS The Sullivans. Upon inspection, the Navy found that the crew of six Yemeni nationals was attempting to smuggle more than 2,000 AK-47 rifles from Iran to Yemen.
The U.S. Navy seized over 2,100 assault rifles that were being smuggled on a fishing vessel from Iran to Yemen, the maritime service branch announced on Tuesday. https://t.co/hxXUHa2Wcu

— CBS News (@CBSNews) January 11, 2023
The weapons, crew, and vessel were seized, and the USN is looking to repatriate the latter two of these elements. According to a press release from the US Naval Forces Central Command Public Affairs, US Naval Forces Central Command for the 5th Fleet Commander Vice Admiral Brad Cooper indicated that the Navy recognizes Iran is continuing its "destabilizing" behavior and it will continue to watch for "activity that impedes freedom of navigation or compromises regional security."
This attempt to smuggle the guns is a direct violation of international law and UN Security Council Resolution 2216. Res 2216 was established in 2015 and imposed an embargo preventing the distribution of weapons to Yemen and individuals correlated with the terrorist organizations within.
Copyright 2023, USNewsBreak.com