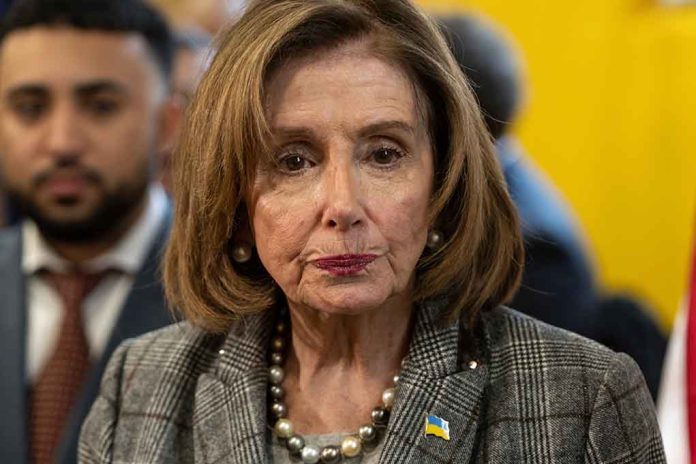 Nancy Pelosi's Husband ARRESTED – Look What Happened
(USNewsBreak.com) – On May 28, officers arrested Paul Pelosi, the husband of Speaker of the House Nancy Pelosi (D-CA). He had been in a car crash after leaving a dinner party, and authorities said he had been driving under the influence of alcohol. His attorney, Paul Kramer, provided a statement to Chad Pergram of Fox News.
A) Statement from Atty for Paul Pelosi: Several news reports about Saturday night's traffic incident involving Paul Pelosi have included incorrect information.
 
Mr. Pelosi was attending a dinner party at the home of friends near Oakville.

— Chad Pergram (@ChadPergram) May 30, 2022
According to Kramer, the speaker's husband left a party around 10:15 p.m. on Saturday. He alleges a jeep hit the rear bumper of his 2021 Porsche when he was trying to cross State Route 29. So far, stories have been conflicting; a May 30 report from The Hill suggests Pelosi was attempting to cross the intersection at the time of the accident.
ABC7 published a statement from the California Highway Patrol (CHP) that said officers reported to the scene at 10:26 p.m. They determined there were no injuries and noted the two cars involved in the accident. Officers arrested Paul Pelosi at 11:44 p.m. after they determined he'd been drinking. He was reportedly five miles from home at the time of his arrest.
CHP took Pelosi to the Napa County Detention Center. He got out on a $5,000 bond and will face misdemeanor charges of driving under the influence and driving with a blood-alcohol level over 0.08.
ABC7 reported Nancy Pelosi's office said the speaker would not be releasing a comment on the situation. She was in Rhode Island at the time of the incident.
Copyright 2022, USNewsBreak.com