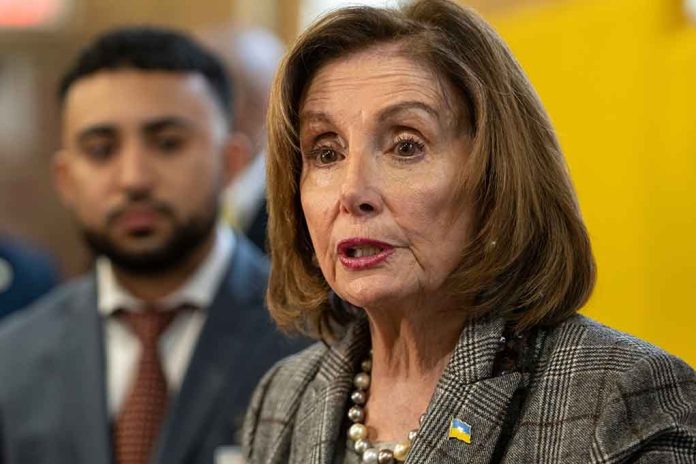 (USNewsBreak.com) – Former House Speaker Nancy Pelosi (D-CA) is no stranger to calling out Republicans for what she views as their perceived wrongs, but sending praise their way is not something that happens often. Yet, that's exactly what she did recently with House Speaker Kevin McCarthy (R-CA) after he met with Taiwanese President Tsai Ing-wen.
On Wednesday, April 5, McCarthy, ignoring implied threats from China, met with President Tsai. The two, along with several lawmakers from both sides of the aisle, held the meeting at the Ronald Reagan Presidential Library.
Following the event, Pelosi released an official statement saying the meeting between Tsai and McCarthy "is to be commended."
"Today's meeting between President Tsai of Taiwan and Speaker McCarthy is to be commended for its leadership, its bipartisan participation, and its distinguished and historic venue," said Nancy Pelosi https://t.co/wa8eZ3Hqn8 pic.twitter.com/1SFlMTX7w9

— NEWSMAX (@NEWSMAX) April 6, 2023
Pelosi herself made waves in August 2022 when she flew to Taiwan to meet with Tsai. She did so despite lawmakers, and even President Joe Biden, cautioning against the move. Her visit to the island nation set off a firestorm with Beijing, which responded by hosting military exercises around the tiny island nation, setting off missiles in the airspace, and perpetrating an increased number of cyberattacks.
The Hill reported that McCarthy made a statement following the meeting in which he recognized that "America's support for the people of Taiwan will remain resolute." He insisted that there was no reason for China to retaliate, which it threatened to do in an email sent to the White House, calling the meeting "a blatant provocation" that was in direct violation of the one-China principle. Rep. Ashley Hinson (R-IA) posted the email on Twitter.
(1/2): Yesterday, my office received an e-mail from the Chinese embassy urging my colleagues & me not to meet with President Tsai today. We will relentlessly stand up for freedom & with Taiwan, and we are never going to cower. pic.twitter.com/6t3ebAcHkK

— Ashley Hinson (@RepAshleyHinson) April 5, 2023
House Minority Leader Hakeem Jeffries (D-NY) also met with the Taiwanese president earlier in the week in New York, where he said they "had a very productive conversation," according to The Hill.
While the United States doesn't officially recognize Taiwan's sovereignty, lawmakers have repeatedly expressed support for the island nation and the importance of maintaining peace. This meeting was another significant affirmation of the relationship between the two countries.
Copyright 2023, USNewsBreak.com