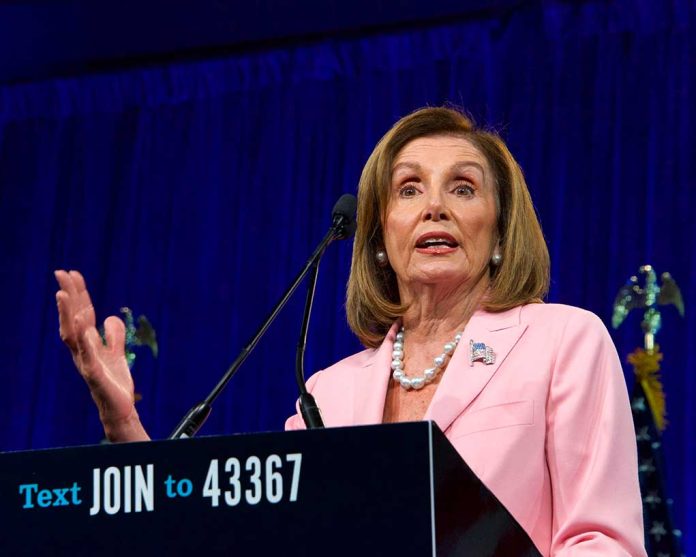 (USNewsBreak.com) – Democrats in Congress are scrambling as they face uncertainty ahead of midterm elections. Polls have not been kind to the Biden administration, but the top Democrat in the US House of Representatives isn't letting it get her down.
Speaker of the House Nancy Pelosi (D-CA) announced on January 25 that she is seeking re-election. She has served the 12 Congressional District in California since 1987.
Pelosi Announces Re-Election Campaign 'For The Children' https://t.co/pgBCg9xio0 pic.twitter.com/k7jU6YXn45

— Daily Wire (@realDailyWire) January 25, 2022
Pelosi's decision caught many voters by surprise, as she indicated in 2018 that she would not seek another term as the speaker. In a video posted on Twitter, the speaker attempted to explain why she chose to stay in the game.
While we have made progress much more needs to be done to improve people's lives. This election is crucial: nothing less is at stake than our Democracy.

But we don't agonize-we organize. I am running for re-election to Congress to deliver For The People and defend Democracy. -NP pic.twitter.com/ojwFPOdRs3

— Nancy Pelosi (@TeamPelosi) January 25, 2022
The House Speaker's motivations run the gamut from protecting children to fighting to protect democracy in the US, which she feels is currently at stake. She also intends to target gun violence if she manages to remain in power.
Notably, Pelosi retains her fundraising power by running for Congress. Democrats are pushing to raise as much money as possible for the midterms. Pelosi's contributions play an essential role in that strategy.
Some analysts suspect Democrats want to replace people who remain in power after decades-long tenures — including Pelosi — to make room for younger leaders. While it ultimately amounts to speculation, they have suggested the DNC might tap Representative Hakeem Jeffries (D-NY) to take over in her absence.
If Republicans manage to regain five seats and win back a majority in the midterm elections, concerns about Pelosi remaining in her leadership position may be moot. However, will the thought of the House Speaker staying in the race push the GOP to work even harder to win in November?
Copyright 2022, USNewsBreak.com