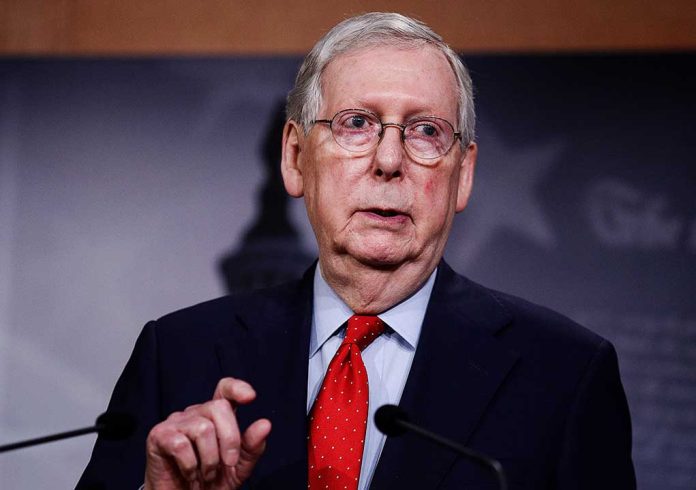 (USNewsBreak.com) – Millions of Americans contribute to 401(k) accounts during their careers to build up retirement funds. Now, the White House is trying to implement a new rule that could significantly change how fund managers handle these investments. And one senator is none too happy with it.
Back in November, the US Department of Labor issued a final rule on how fiduciaries consider environmental, social, and governance (ESG) factors in managing retirement funds. It states that a trustee may evaluate "ESG considerations on [a] particular investment or investment course of action" as a factor in the risk and return analysis.
Senate Minority Leader Mitch McConnell (R-KY) is now blasting the White House for this new provision in what he calls a "radical" change that puts leftist desires and "ideological goals" ahead of financial responsibility.
McConnell sounds alarm on Biden's "radical" new rule for 401(k) fund managers https://t.co/W2fKoWcv4e

— NEWSMAX (@NEWSMAX) March 1, 2023
ESG investing, sometimes called impact or sustainable investing, has become increasingly popular as more people weigh the effects of climate change when choosing funds. However, despite investors having put nearly $70 billion into them in 2021, one of the largest growths to date, the change hasn't been reflected in the 401(k) plans, meaning there is still some uncertainty and risk involved with them.
The Biden Administration's action in this matter is in direct contrast to that of former President Donald Trump's administration, which prevented employers from considering ESG factors.
Important to note, however, is that this isn't a mandate, and the new rule doesn't exclude employers from doing comprehensive reviews of risk and return analysis when choosing what to include in their portfolios. Legally, they must still put their employees' financial interests ahead of causes they favor.
There's been a lot of pushback on the rule, too. The House has already passed a resolution in a 216-204 vote, mostly along party lines, to toss out the rule. President Joe Biden has already promised to veto such a measure should it cross his desk. It would be his first.
Copyright 2023, USNewsBreak.com