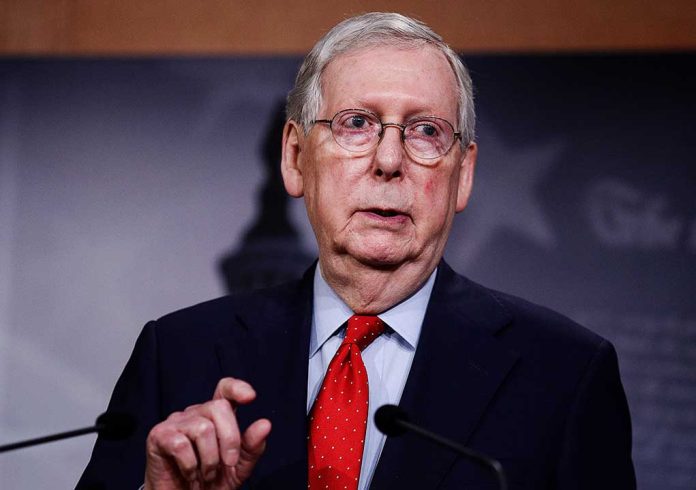 Alaska Republicans Agree To Censure Mitch McConnell
(USNewsBreak.com) – The Alaska Republican Party censured Senate Majority Leader Mitch McConnel (R-KY) on October 24. In a Facebook post, the group explained the expression of formal disapproval was a direct result of his support for Senator Lisa Murkowski in the upcoming midterm elections. The party reportedly voted 49-8 in favor of censuring McConnell.
The Alaska GOP's symbolic censure of Senate Minority Leader Mitch McConnell (R-Ky.) came as the establishment GOP is helping Sen. Lisa Murkowski and rebuffing Trump-backed Kelly Tshibaka. https://t.co/TxG0lGNMwq

— The Washington Post (@washingtonpost) October 25, 2022
The group had already censured Murkowski for going against the party's interests. The senator was often at odds with former President Donald Trump, and most notably voted to hold the former commander in chief responsible for causing the January 6 incident at the Capitol. She's also been campaigning against Republicans running for the state's House seat.
The Alaskan GOP chose to throw its endorsement behind Kelly Tshibaka for the state's Senate position, but McConnell has reportedly been investing millions in ads to defeat her. The party said any support or money going toward Murkowski or against Tshibaka is an attack on the Right. In the social media statement, the party noted that McConnell was guilty of this.
According to The Washington Post, Tshibaka claimed McConnell has spread lies about her to help get Murkowski re-elected. She also stated the Senate majority leader should stay out of Alaska's election and focus his efforts on states where the Republicans could oust Democrats from Congress.
Copyright 2022, USNewsBreak.com