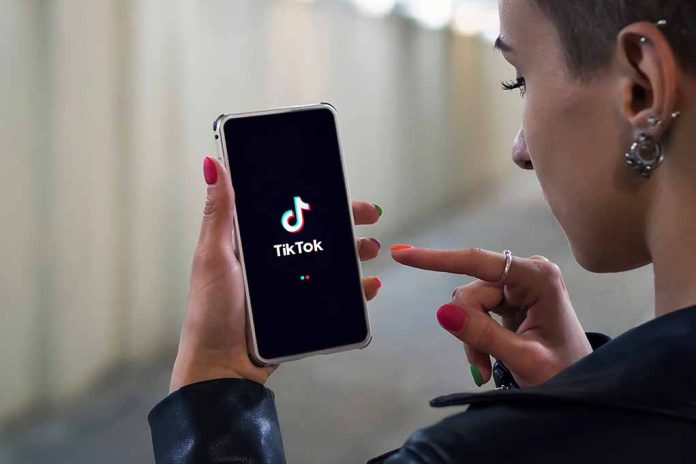 (USNewsBreak.com) – TikTok is a social media platform mainly for teens and younger adults. It originally shot to fame for short videos featuring dances made up by users. These days, the platform offers a broader range of content — including topics that help save lives.
On November 4, a 16-year-old girl saved herself by using the Signal for Help developed by the Women's Funding Network in a TikTok video. The subtle warning let people know she was in trouble without alerting her kidnapper.
A 16-year-old girl learned a hand gesture on TikTok to signal for help. Law enforcement says it saved her life. https://t.co/wa2JtUjAXa

— Earle Kimel (@earlekimel) November 8, 2021
The Laurel County Sheriff's Office says they arrested 61-year-old James Herbert Brick after a driver witnessed the girl flash the hand signal while driving down Interstate 75. The passing motorist called 911 to report the situation, leading officers to their location by following the vehicle and reading road markers to the operator along the way.
Officers were able to box in the Toyota, taking Brick into custody without incident.
Reports show the suspect took the 16-year-old victim from her home in Asheville, North Carolina, more than two days before his capture. The man allegedly had no idea what the young victim was doing while waving to other cars.
The County Sheriff's Office said law enforcement officials were unaware of the meaning behind the gesture, but that the driver who called for help realized it was a distress signal. Spokesman and Deputy Gilbert Acciardo said he hopes the story improves awareness of the hand gesture, potentially aiding more victims in the future.
Brick faces charges for possession of matter portraying a sexual performance by a minor and unlawful imprisonment. For now, he remains locked up in the Laurel County Correctional Center.
Copyright 2021, USNewsBreak.com