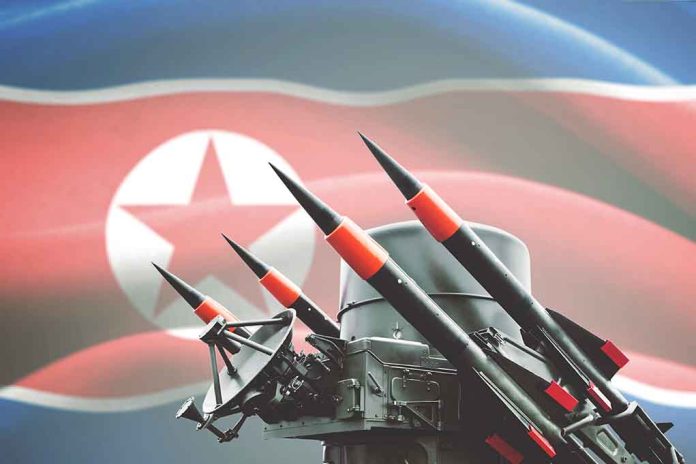 North Korean Missile Reportedly Flies Over Japan, Stoking Fears
(USNewsBreak.com) – During the morning hours of October 4, North Korea fired a ballistic missile over Japan. The last time a similar move occurred was in 2017, according to the Japan Times, making the latest a shocking event for the nation. Japan's Defense Minister Yasukazu Hamada was reported by the outlet saying officials believe it was a Hwasong-12 IRBM. He explained the device went over Aomori Prefecture and came down in the Pacific Ocean with no known damage. The minister noted the nation would work with the United States and other close allies to address the situation.
North Korea fires ballistic missile over Japan, some residents warned to take cover https://t.co/awy4JlmHY9

— Press TV (@PressTV) October 4, 2022
US National Security Council Coordinator John Kirby shared with "Fox & Friends" that assessments of the flight data are ongoing to determine the exact type of missile. But he verified the path, at over 2,800 miles, was much longer than recent ones.
In a press release, state Department spokesperson Ned Price called the missile launch "reckless and dangerous" and characterized it as an "unacceptable threat." He reported Secretary of State Antony Blinken spoke with Japanese Foreign Minister Hayashi Yoshimasa and Republic of Korea (ROK) Foreign Minister Park Jin after the incident.
All three leaders condemned the exercise and concurred it would impact peace in the region. Blinken vowed to continue backing Japan and the ROK to keep the nations secure while pushing for continued work toward holding North Korea accountable.
The missile launch prompted a J-Alert warning in Japan. Messages went to leaders and citizens in Aomori Prefecture, Hokkaido, and Izu and Ogasawara in Tokyo via radio and phone alerts. The government also used sirens to make residents aware. People received instructions to seek shelter, stay away from windows, and avoid anything that might fall from the sky.
Copyright 2022, USNewsBreak.com