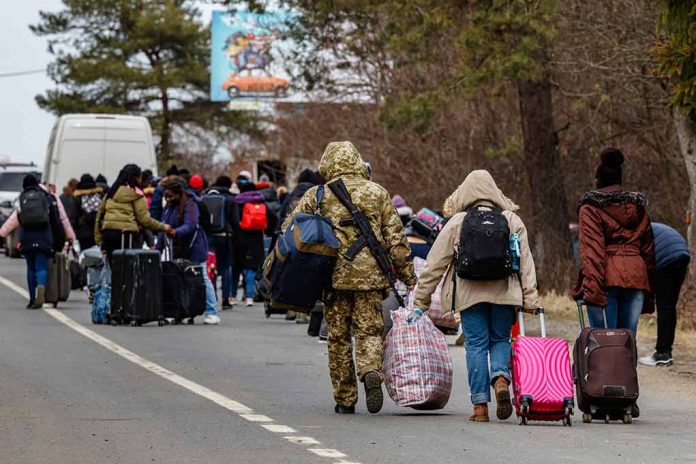 (USNewsBreak.com) – Disasters happen all over the world. Earthquakes, tornadoes, hurricanes, floods, and war tend to displace millions of people globally from their homes, particularly when Mother Nature is really angry. However, a new report shows a disturbing increase in the number of those affected.
The Internal Displacement Monitoring Centre (IDMC), a non-governmental organization that tracks internally displaced persons (IDPs), released its most recent report. IDPs are individuals who were forced to flee their home countries to escape different disasters. The report found that by the end of 2022, more than 71 million people had been displaced that year alone across 110 countries and territories. This figure marked a significant increase over the year prior, which saw 59.2 million people affected.
71M displaced due to war, natural disasters last year: research https://t.co/ivAHqDTQyH

— Microsoft News (@microsoftnews) May 11, 2023
Conflict and violence, notably caused by the war in Ukraine, as well as escalating tensions in the Democratic Republic of Congo, were to blame for the majority (62.5 million) of displacements. The other 8.7 million people suffered the devastating effects of natural disasters, one being severe flooding in Pakistan, which alone accounted for 25% of disaster displacements.
According to the IDMC, the majority of the IDPs occurred in Sub-Saharan Africa. That region accounted for 31.7 million, which is nearly half of the 71 million displaced. The Middle East and North Africa were second at 12.8 million.
The report also took a look at internal displacements, a different demographic that looks at the number of "forced movements of people within the borders of their country recorded during the year." Like IDPs, this number was significantly higher in 2022 than in 2021. In fact, it was the highest ever recorded in both categories: conflict and violence (28.3 million) and disasters (32.6 million). Those displaced by disasters increased 41% over the annual average of the past decade.
The US had the smallest number of people displaced due to disasters at 675,000.
Copyright 2023, USNewsBreak.com