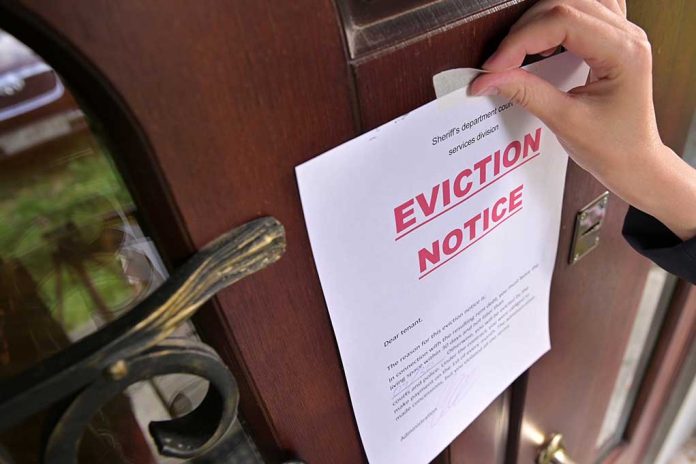 Millions of US Citizens Could Soon Face Eviction
(USNewsBreak.com) – The eviction moratorium set at the federal level during the pandemic offered relief for renters, but caused considerable hardship to property owners. Millions of renters now fear they will be homeless soon. With no additional protection against evictions available, and the cost of living skyrocketing thanks to inflation, vulnerable families now face quite a bit of uncertainty.
A Spiraling Issue
Nearly all eviction stays at the federal and state levels have been lifted, leaving many renters with a lot of overdue rent. Census Bureau data shows that 8.5 million will owe back payments to their landlords at the end of August.
In addition, rental costs are rising all across the country, with increases from $100 to over $500 within the last year. Zillow reported the average price going over $2,000 a month, breaking records. The company said rental costs have risen by 24.6% since 2019.
To afford to stay in their homes, more than half of renters said they had to tap into savings and retirement funds or credit cards. Even so, roughly 14% say they still have outstanding balances owed to their landlords.
Evictions for nonpayment have already started in many locations. There is a massive influx of new renters ready to step in and fill all the vacancies. But that still leaves many people without homes, and chances of finding replacement accommodations are low.
The Cure Is Worse Than the Problem
Inflation is mainly pushing rents higher, making it even more difficult for already-struggling renters to keep up with their payments. But to eliminate the rising costs of living, the federal government hiked interest rates, which only led to more issues.
Landlords can charge these high monthly rates because there is a lack of housing available. The market is overburdened with people needing homes and not enough rentals for them to live in. Many who would have considered buying now can't afford to, with interest rates at 5.13% and home prices remaining high. The "fix" for inflation priced them out of the market, forcing them to rent.
With renters behind on payments due to financial hardships from the pandemic, and landlords wanting their money now, the increase in evictions is inevitable. Once these people land on the streets, they won't have anywhere to go, and a resulting homeless crisis could be about to hit the country. Will the current administration have anything else to say once the most desperate among us have fallen into the gutters?
Copyright 2022, USNewsBreak.com