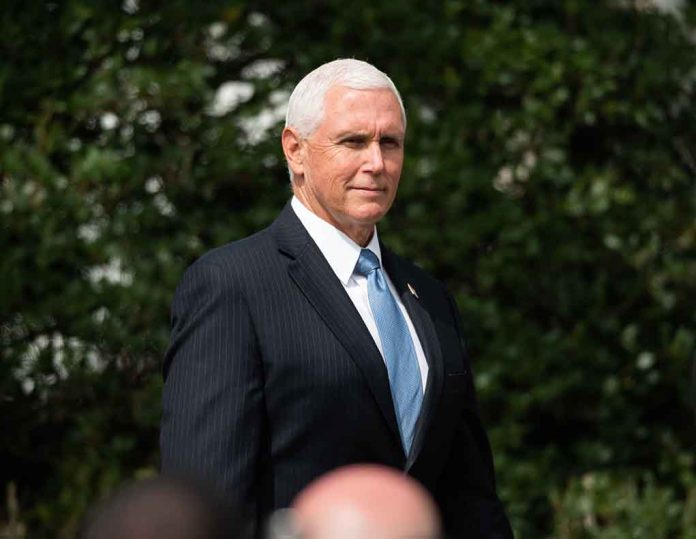 (USNewsBreak.com) – For the last several months, it's been a guessing game as to who would enter the Republican primary race. Former President Donald Trump was the first major candidate to announce his campaign. Now, it's becoming a crowded field. The latest to reveal he's running for president in 2024 is none other than former Vice President Mike Pence.
On Monday, June 5, Pence officially submitted the paperwork to the Federal Election Commission (FEC). He made his official announcement on Wednesday, June 7, which was also his 64th birthday.
Pence, like most others in the Republican primary, faces an uphill battle in securing the nomination. Current polls on FiveThirtyEight put him in third place, but he has a large hill to overcome, with his latest polling figure sitting at 5.4%. Trump is currently in the lead with 53.7%, while Florida Governor Ron DeSantis is sitting in second place, 32.4 percentage points behind the former president at 21.3%.
According to a June 2 announcement by the Republican National Committee (RNC), the first GOP primary is set to take place on August 24. Candidates will need to meet all of the criteria put forth, which broadly include:
Meeting all constitutional requirements;
Having declared candidacy;
Have filed appropriate forms with the FEC;
Polling at least 1% in three national surveys, or 1% in two national surveys plus 1% in an early state poll;
Have at least 40,000 unique donors, which must be spread across a minimum of 20 states with 200 unique donors in each of those;
Pledge to support the eventual party nominee;
Pledge to agree not to participate in any unsanctioned debates; and
Sign the committee's data-sharing agreement.
The field is already crowded compared to the Democratic Party. Yet, the list of candidates is expected to grow. Former New Jersey Governor Chris Christie also tossed his name into the hat on Tuesday, June 6, and North Dakota Governor Doug Burgum is also expected to join the slate of competitors. As for Democrats, there are still only three candidates: President Joe Biden, Marianne Williamson, and Robert F. Kennedy, Jr.
Copyright 2023, USNewsBreak.com