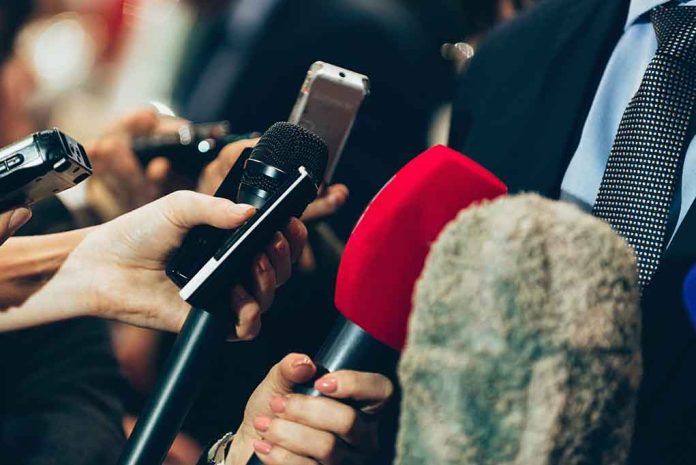 (USNewsBreak.com) – Journalists have an important job. They dig into their assignments and report their findings to the world. Sometimes, especially for reporters who travel to cover dangerous situations and war-torn countries, the job can prove to be perilous. Now, one company is looking to honor those who've died while on the job.
On Monday, May 1, the Fallen Journalists Memorial Foundation released a statement that it received approval from the US Commission of Fine Arts (CFA) to create a memorial honoring "America's commitment to a free press" and the correspondents who have passed away. The piece will be on display in Washington, DC, at a site on the National Mall bordered by 3rd Street SW, Maryland, and Independence Avenues.
BREAKING: We received federal agency approval to build a memorial on the National Mall in direct view of the U.S. Capitol to commemorate America's commitment to a free press by honoring journalists who have died while reporting the news.

Read more here: https://t.co/nVhV1ESpxS pic.twitter.com/AXkeEo8Rv2

— Fallen Journalists Memorial Foundation (@FJMemorial) May 1, 2023
Journalists can put themselves in dangerous situations to get to the bottom of a story, and some die in the line of duty. In 2022, a report from The Committee to Protect Journalists indicated that the number of deaths jumped nearly 50% from the year prior. Around 67 media workers and journalists were killed that year.
The memorial will cost around $50 million to create and erect, and it's expected to open in 2028. All of the funds will come from private donations, so there will be no taxpayer dollars involved.
According to The Washington Post, the foundation has received commitments from donors to cover at least 40% of the cost. It is collaborating with Paul Goldberger, an architecture critic, to identify and hire a team that "can create a commemorative landscape that represents the full breadth of journalism — past, present and future," according to the Fallen Journalists statement. Fallen Journalists Memorial Foundation president Barbara Cochran confirmed that current plans indicate it will be at an outdoor, uncovered location. It also won't include the names of journalists due to restrictions.
The foundation announced that in addition to the physical memorial, it plans to provide digital resources and programming. The website will focus on educating Americans on the importance of the First Amendment and the country's right to a free press.
Copyright 2023, USNewsBreak.com