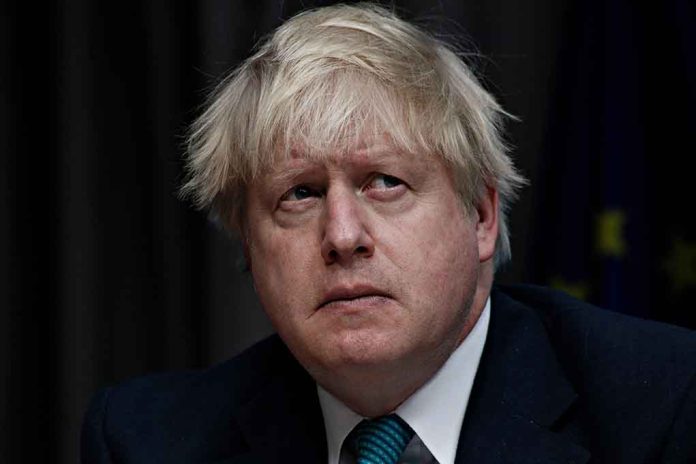 Boris Johnson REPLACEMENT Buzz – Just After This Vote Happened
(USNewsBreak.com) – British Prime Minister Boris Johnson survived a no-confidence vote on June 6. The results were indicative of a deep divide within the Conservative Party. They also showed Johnson can't as easily bypass scandals as he did in the past. Reports suggest the PM has been weakened, which has the some asking who might step up to fill his shoes.
The Vote and Pressing Troubles
Johnson held onto his position with a vote of 211 out of 359. But a strong movement against him continues to plague and pose a serious threat to his future. He's suffering under scrutiny due to the revelation that he and his staff held parties during a time when the public had been placed under severe restrictions for COVID-19.
He claimed the celebrations were for morale, but took responsibility for his choices. Some Conservative members see him as unable to connect with the voters due to this scandal. They feel he's quickly becoming a liability that they may want to cut free.
Despite the cloud hanging over him, Johnson was happy with the no-confidence vote. He called it a "convincing" victory and urged the party to unite. The PM wants to move forward and focus on issues important to the public, including crime, the economy, and healthcare.
Potential Future Trouble
Tory legislators, UK's conservative wing, called up the challenge. The public had voiced its discontent with Johnson's COVID-19 scandal and wanted him held accountable.
But the supportive vote from conservatives may have been more about a lack of reasonable replacement than real support from his party. There were more Conservatives who voted against him than predicted, and he held the position by a slim margin. He needed 180 votes and got 211.
The previous Prime Minister, Theresa May, won her no-confidence vote by a large margin, but still had to resign six months later. Johnson also must undergo an ethics probe that could result in more trouble for him. So, where does that leave conservatives?
According to The Associated Press, a possible contender to take over for him is Foreign Secretary Liz Truss. She has been upfront about her goal to hold the high office. She's also popular among the party members who compare her to Margaret Thatcher.
Another option may be Treasury Chief Rishi Sunak. He is the most well-known choice.
However, he also was found attending parties during COVID-19 lockdowns, and there was a scandal with his wife not paying taxes. His appointment as Prime Minister would mark the first person of color to hold the office.
Former Cabinet Minister Jeremy Hunt may also be a relevant choice. He ran against Johnson in 2019 and lost his cabinet position along with the race. He's clear about not supporting Johnson, which could win him support from some circles.
There are several more people who might have a chance at taking over should Johnson eventually have to leave. For now, the PM needs to navigate his way through further inquiries while also reviving his public image in any hopes of holding onto his position. Should the Brits push Johnson out of office, or should they give him another chance?
Copyright 2022, USNewsBreak.com