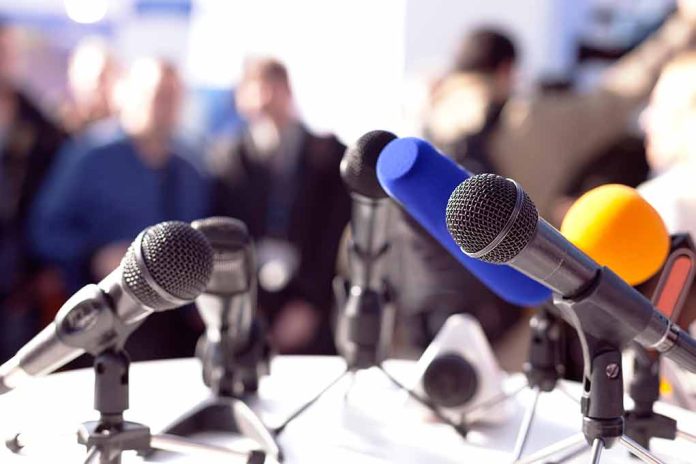 (USNewsBreak.com) – Senate Minority Leader Mitch McConnell (R-KY) is one of the oldest people in Congress at the age of 81. Elected 39 years ago, he has served as a GOP leader since 2007. The senator has come under scrutiny in the last few years due to sustaining several injuries. Now, twice in as many months, he's seemingly frozen up at the podium, causing many to wonder if he's fit to continue serving.
On Wednesday, August 30, McConnell was speaking to the press at an event when a reporter asked him if he was planning to run for re-election in 2026. The senator started to answer but abruptly stopped, staring into space for several seconds. Even his aides couldn't get him to respond. When he did speak again, his voice had decreased in volume. According to Newsmax, one of his aides said the lawmaker "felt momentarily lightheaded."
Senate Minority Leader Mitch McConnell has been cleared by the Capitol physician to resume his schedule just 24 hours after his second public freezing episode. It comes as more questions are being raised about the health of the Republican senator. pic.twitter.com/V7xB36KCDS

— CBS Evening News (@CBSEveningNews) August 31, 2023
This incident marks the second time McConnell has frozen up while speaking. In late July, he was attending a news conference at the US Capitol building when he went silent for 28 seconds. A colleague and an aide escorted him away for a few minutes, and when he returned, he was fine.
Following the second incident, one of McConnell's aides, speaking anonymously, said the senator would be visiting the doctor before attending any more public events. It was revealed on August 31 that he had been cleared to continue working.
These two incidents weren't the first signs this year of McConnell's possible health struggles. In March, he fell at the Washington, DC, Waldorf Astoria hotel while at a private event and missed several weeks of work with a broken rib and a concussion. It's unclear whether that fall is responsible for his recent difficulties. He also fell in February and in July. A spokesperson for his office spoke with USA Today, noting that the lawmaker sometimes uses a wheelchair to get around but said it wasn't a sign of anything more serious, just a "prudent and precautionary measure" for crowded areas.
Copyright 2023, USNewsBreak.com