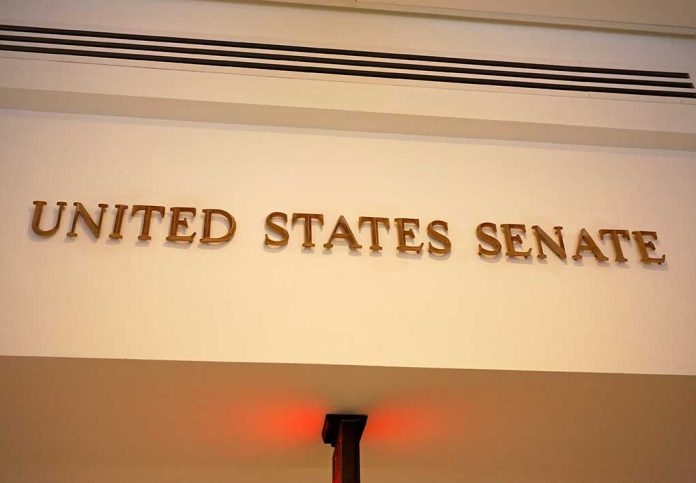 (USNewsBreak.com) – In January, after the 118th Congress convened, the House wasted no time getting to work. One of the first orders of action was to establish the Select Committee on Strategic Competition between the United States and the Chinese Communist Party (CCP). Its primary focus is on security and economic competition with the CCP. House Speaker Kevin McCarthy (R-CA) thinks that because of the growing threat surrounding the Asian nation, the Senate should form a similar committee.
On March 21, during a press conference, McCarthy, who was joined by Republican Reps. Ashley Hinson (IA) and Burgess Owens (UT) spent a lot of time addressing the threat the CCP poses to the United States. He spoke about their human rights abuses, the nation working with Russia, and intellectual property theft, which has been an issue for decades. While discussing these problems, he said he hopes "the Senate would create a similar committee," according to The Epoch Times.
McCarthy Urges Senate to Form China Committee https://t.co/V9q5NyxhRt

— TruthNews (@TruthNews2day) March 22, 2023
The Senate is currently under Democratic control, but recent actions have led to a bipartisan agreement on China and its activities. For example, when the spy balloon was discovered, it led to a quick resolution condemning the Asian nation. Both parties united to pass it.
Even the House select committee on the CCP is a mostly bipartisan group, the product of McCarthy working alongside Minority Leader Hakeem Jeffries (D-NY). It has 24 members, 13 of which are Republicans.
Conservatives have been outspoken about making China — and issues surrounding the CCP — one of their main focuses during this session. In the Senate, the Select Committee on Intelligence has increasingly raised the flag on the threat that China poses.
It's unclear whether the Senate will follow in the footsteps of the House, but with China's recent actions — including recently sending drones to Russia to aid in its conflict against Ukraine — could it prompt lawmakers to take action?
Copyright 2023, USNewsBreak.com