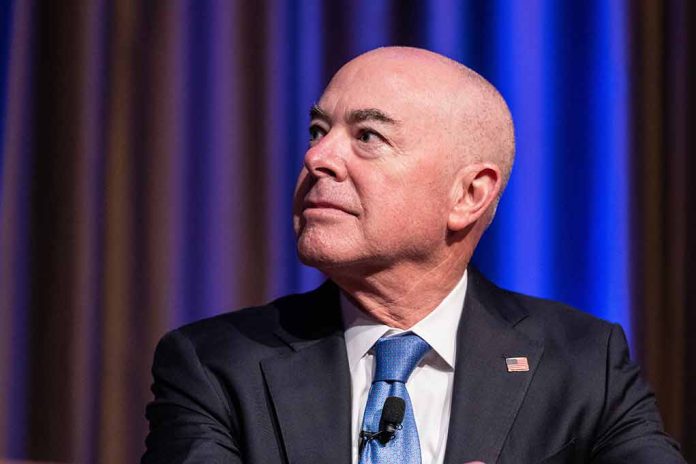 (USNewsBreak.com) – Illegal immigration is one of the core issues that the Biden Administration has had to deal with. It has faced a lot of backlash from Conservatives for its perceived failings in dealing with the crisis at the nation's southern border. A recent report from the House Committee on Homeland Security has accused Department of Homeland Security (DHS) Secretary Alejandro Mayorkas of dereliction of duty.
On July 19, the GOP released its preliminary findings in relation to Mayorkas' duties as the DHS secretary. In its introduction, the report says that he "has repeatedly ignored or refused to enforce immigration laws" and called him the "chief architect" of the border crisis. The report also accuses him of putting policies in place that "encouraged and facilitated" unlawful immigration.
House Homeland GOP report accuses Mayorkas of 'intentional' dereliction of duty over border crisis https://t.co/sZ8RmhDSE0

— Fox News (@FoxNews) July 20, 2023
The 112-page document outlines several areas where Mayorkas allegedly failed, using nine exhibits of evidence. Mass parole, including the creation of a number of programs to make it easier, is one of the points the GOP brings up, pointing to the secretary's own feelings and prior statements before Congress about the US' detention system for migrants.
In 2021, the Fifth Circuit Court of Appeals ruled that the department violated the Administrative Procedure Act and certain statutes. The GOP believes that Mayorkas has continued to proceed anyway, thus ignoring the ruling.
The report also covers the various policies that were in place under former President Donald Trump that the administration canceled. For example, the border wall construction, Migrant Protection Protocols (MPP), and Title 42 are listed. In regards to MPP, former Border Patrol Chief Rodney Scott said the program, which "made sure people got due process" but eliminated many incidences of immigrants fraudulently claiming asylum, was done away with "intentionally." Thus, the administration is "responsible for the results."
Several former officials, including DHS Acting Secretary Chad Wolf, USCIS Acting Director Joe Edlow, and BP Chief Scott, have expressed similar conclusions that Mayorkas was derelict. The committee has vowed to continue its investigation, with the next phases aimed at examining the consequences of the border crisis under his helm.
Copyright 2023, USNewsBreak.com