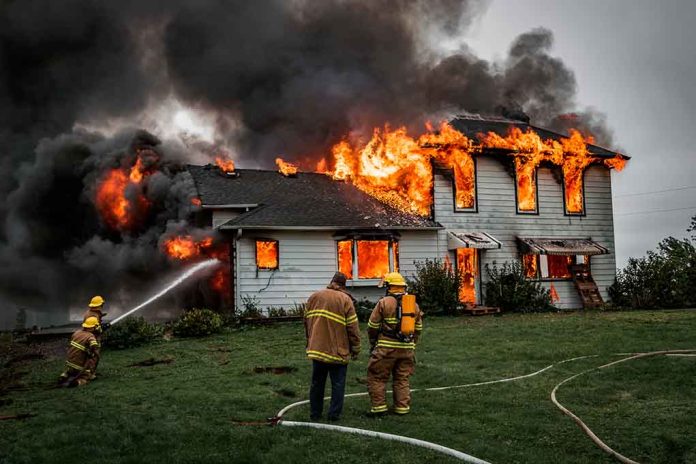 (USNewsBreak.com) – The tragic death of a child is never easy, but for some parents, it's an impossible experience that breaks them to the core. There are ways to deal with that level of grief appropriately, but grief sometimes causes people to lash out and project instead. In the case of one 33-year-old Connecticut man, the severity of his breakdown led him to commit a number of grave crimes.
Distraught Connecticut Father Set Fire to a Home Hours After His Newborn Son Was Mauled to Death by Family Pit Bull: Policehttps://t.co/jYbJcnlqjV

— Law & Crime (@lawcrimenews) November 18, 2021
On May 10, a family dog tragically mauled and killed Timothy Settles and Jerren MK Johnson's 1-month-old son, Carter, without warning. They immediately called local authorities, who responded and pronounced the young child dead on the scene.
Settles, who was not home at the time of the incident, returned to the home shortly after learning his son had died. He picked up his mother, Sheila Settles, and girlfriend Jerren, taking them to an unnamed friend's home on Rosemary St.
Witnesses, including Settles' own mother, say the couple argued over who was responsible for the infant's death upon arriving at the Rosemary Street residence. Johnson allegedly implored the man not to blame his mother. This prompted him to drive to a nearby hotel, where he began drinking heavily.
Settles eventually returned to Rosemary Street and began yelling, leading the upstairs neighbor to tell him to leave the residence. Instead, the grieving father allegedly set the property on fire. New London Police searched for him for some time, eventually placing him under arrest on November 8.
Timothy Settles now faces charges for arson, reckless endangerment, and criminal mischief. The upstairs neighbors were able to get out of the home without injury; nobody was present in the other unit at the time.
Copyright 2021, USNewsBreak.com