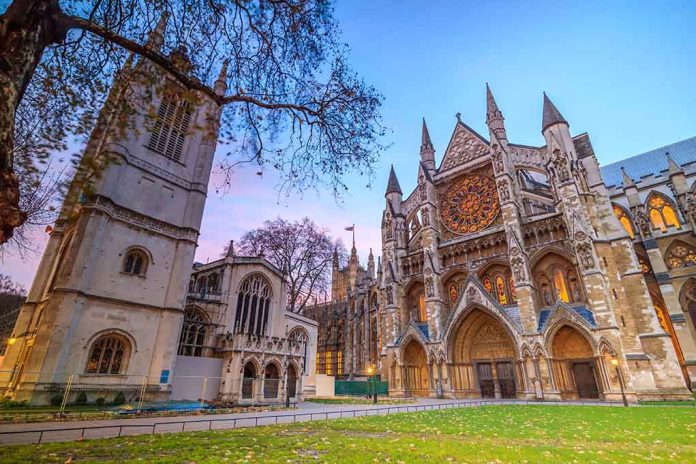 Man Arrested Over Incident During Visits to the Queen
(USNewsBreak.com) – After the death of Queen Elizabeth II on September 8, she lay in state in Westminster Hall in London for four days. Estimates say over a quarter of a million people paid their respects to the monarch, according to the Associated Press. And despite the crowds, the ceremony went off relatively smoothly. But there was one exception. One man, identified as Muhammad Khan, allegedly rushed toward the coffin and tried to grab the flag adorning it before police took him into custody.
Man arrested for rushing Queen's casket was checking if she was 'alive' https://t.co/qet33tj2ju pic.twitter.com/80E35CMS9F

— New York Post (@nypost) September 21, 2022
Prosecutors revealed during an initial hearing for Khan the man thought the Queen was still alive. He believed he needed to check the coffin to see if she was really inside. In addition, the man confessed he had other intentions to prove his belief that the Queen wasn't dead. His plans involved potentially trespassing at Balmoral, Buckingham Palace, and Windsor Castle and harassing members of the royal family with letters. Part of Kahn's thought about the situation was that King Charles III was part of the alleged coverup, and he wanted to prove he was correct.
Doctor assessments concluded the man was not in good mental health or fit to stand trial. Judge Michael Snow ordered Khan confined to a medical facility until his return to court on October 18. The defendant reportedly faces charges under the Public Order Act for allegedly trying to cause harassment, distress, or alarm.
Queen Elizabeth II's funeral took place on Monday, September 19. According to a report from NBC, hundreds of leaders from other countries attended the service. She was set to be buried alongside her husband, Prince Philip, who passed away in 2021.
Copyright 2022, USNewsBreak.com