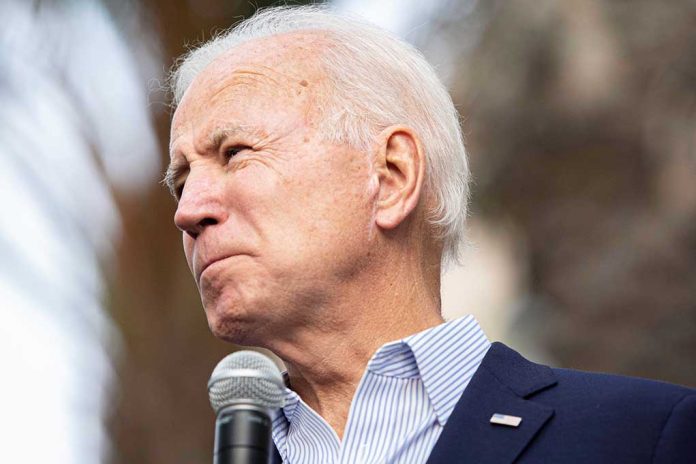 Biden ASSASSINATION Threat – Authorities Take Action!
(USNewsBreak.com) – The Secret Service recently filed a criminal complaint against John Andrew Bazor Jr. of Mobile, Alabama, for threatening to kill President Joe Biden. He reportedly called the switchboard at the White House on July 10 and made the menacing statement. Authorities arrested him on July 18 at a Mobile motel.
Secret Service agents tracked down John Andrew Bazor Jr. for allegedly threatening the president. His family members say he has struggled with mental health. https://t.co/XahPj7FVE0

— Newsweek (@Newsweek) July 21, 2022
In the complaint, officers said Bazor was agitated and acted confused when speaking with them, saying he didn't want to hurt Biden but then changing his mind and saying he did. He tried to move past the agents and leave and was rambling about calling the Secret Service. Officers say the accused was showing signs of a mental health issue at the time.
His mother, Kimberly Clark, gave a statement that she tried to have him committed to a mental hospital in the past. She noted that at one point, the suspect threatened to blow up a local hotel and hospital, and that she had serious concerns about his mental health even though he had never been diagnosed with an illness.
On July 20, prosecutors asked the judge to issue a psychiatric evaluation due to outbursts and other behaviors the young man exhibited during previous hearings. His attorney, Gordon Armstrong, supports the request as it will help answer whether the defendant is criminally liable for his actions. Armstrong also said it seems like his client should be in a health facility getting treatment and not in jail, according to a July 20 report from Newsweek.
This case comes shortly after a California man admitted his intentions to kill US Supreme Court Justice Brett Kavanaugh in June. Recent reports have noted that violent threats against politicians are becoming more common. One expert, University of Chicago political science professor Robert Pape, was quoted by The Hill saying he believes political violence is becoming more "acceptable" because people feel it is a legitimate way to express disdain for the system.
Copyright 2022, USNewsBreak.com