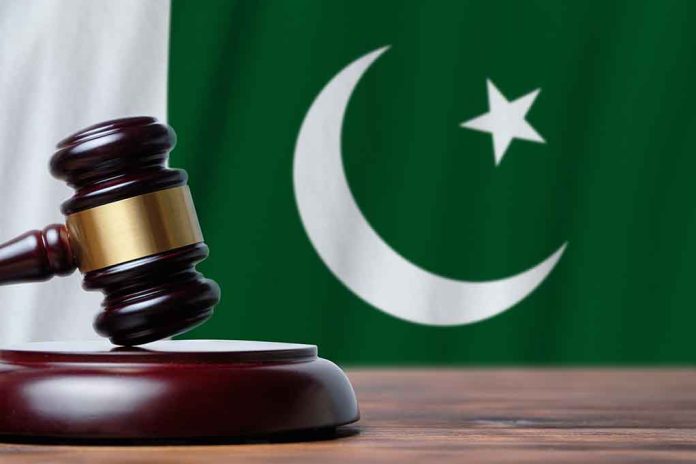 (USNewsBreak.com) – A prominent lawyer in Pakistan, known for his outspoken nature on issues surrounding the country's military and militants, was killed in Peshawar High Court on Monday, January 16.
The accused suspect, Adnan Khan, apparently snuck a gun into the court under his clothes. He was disguised as an attorney at the time. Pakistani lawyers wear judicial robes and aren't subject to personal searches when they enter the court, which gave Khan the means to get the weapon inside. Then, according to reports, he approached Abdul Latif Afridi and opened fire six times, fatally wounding the man. Doctors pronounced Afridi dead at a local hospital.
Gunman opens fire inside courtroom killing top lawyer in northwest Pakistan | Fox News https://t.co/VzJ2vF05PW

— Khurram Zuberi (@kmzuberi) January 17, 2023
After allegedly killing Afridi, Khan surrendered to police, asking them not to shoot. He acknowledged he had a grudge against the attorney and had "taken [his] revenge." According to a report from The Daily Telegraph, an "alleged blood feud" was reported as the cause behind the murder. Notably, The Associated Press indicates the suspect believed the lawyer had some involvement in the 2015 death of his father, Samiullah Khan.
Samiullah Khan, an attorney himself, had distant ties to Osama bin Laden in that he represented Shakil Afridi, the physician who'd helped the Central Intelligence Agency (CIA) locate bin Laden by running a fake medical campaign. From there, the US Navy SEALS were able to move in and kill the terrorist leader in 2011.
The following year, the country sentenced Dr. Afridi, of no relation to the recently deceased attorney, to 33 years in prison. The crime, according to Islamabad, was providing medical treatment and funds to Islamic militants, AP reported.
Prime Minister Shehbaz Sharif, along with other government officials, condemned Afridi's murder. The charges against Khan for the alleged murder of the Pakistani attorney remain undisclosed. Some are also calling into question the security of the court, as this isn't the only fatal shooting to happen within its doors.
Copyright 2023, USNewsBreak.com