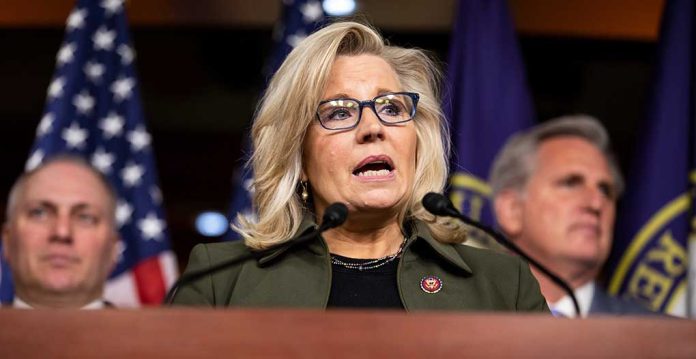 Liz Cheney 2024 UPDATE – Could She Really Run?!
(USNewsBreak.com) – Representative Liz Cheney (R-WY) appeared on ABC's "This Week" on July 3, where she faced the question of whether she would consider running for president in 2024. Cheney wouldn't answer the question with a direct "yes" or "no," but said she is focusing on her reelection and the January 6 committee right now. Any decision about seeking the presidency would be "down the road."
Rep. Liz Cheney says she has not ruled out a presidential run in 2024. https://t.co/ESawXakgCg

— Newsmax (@newsmax) July 4, 2022
Cheney has had a rough time over the past year, and her bid to keep her seat in the House is in jeopardy. She turned against former President Trump, voting to impeach him. Now, she's serving on the House January 6 committee despite some fellow Republicans denouncing the move. Her decisions to stand against Trump have left her in the doghouse with many members of the GOP.
At this point, it's unknown whether Cheney will seriously consider a presidential run, even if she keeps her seat this year. While she didn't rule out the possibility, a big question remains. Could Cheney get the support she would need to win the nomination, let alone the presidency?
Cheney says that the Republican party has gotten off track with Trump, whom she feels is guilty of crimes related to January 6. She said the party needs to get back on track and realign with its core beliefs. However, this has put her at odds with Trump supporters, who make up a significant portion of the party. Could she overcome her issues within the GOP to allow her to make a real bid for the White House in 2024?
Copyright 2022, USNewsBreak.com