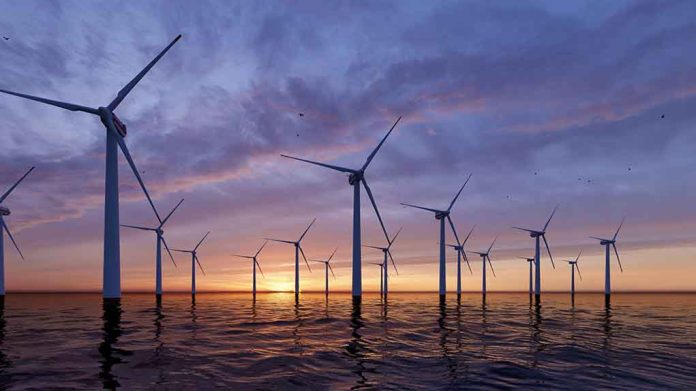 (USNewsBreak.com) – Green Energy has been a focus for those on the Left for decades. In September 2022, New Jersey Governor Phil Murphy (D) signed an executive order expanding the state's offshore wind initiative by 50%. In the months that followed, strange events occurred on the state's beaches. Since December, 25 whales have washed ashore on the East Coast. Another event, called a "mass stranding," also occurred recently, prompting some lawmakers to call for a halt to the project.
Lawmakers call for pause on offshore wind as eight dolphins wash up on New Jersey shore https://t.co/pscVaZFWk4

— Washington Examiner (@dcexaminer) March 23, 2023
Beachgoers in Sea Isle City, New Jersey, got much more than they bargained for on Tuesday, March 22, when eight dolphins washed ashore. Two of the mammals were dead, but public work crews and onlookers tried to keep the remaining six alive by pouring buckets of water on them. Unfortunately, their efforts failed.
The sad event immediately prompted Rep. Jeff Van Drew (R-NJ) to compose a congressional resolution. It called on the Biden Administration to cease all offshore wind surveying activities until officials can thoroughly assess the offshore wind initiative's full economic and environmental impacts.
He's not alone in his efforts, either. Rep. Chris Smith (R-NJ) said the current projects present a "potentially catastrophic threat," according to the Washington Examiner. He previously introduced legislation to initiate an investigation into the striking number of deaths of whales in the months following the offshore wind surveying. In his proposed legislation, he asked that the National Marine Fisheries Service — part of the National Oceanic and Atmospheric Administration (NOAA) — and the Bureau of Ocean Energy Management — an agency reporting to the US Department of the Interior — perform the analysis before the actual building of the nearly 100 wind turbines.
The National Oceanic and Atmospheric Administration (NOAA) has blamed the extraordinary number of mammal deaths on vessel strikes, but Smith disagrees. In an interview with the Washington Examiner, he raised the possibility that the offshore work involving sonar emissions interferes with the sonar systems that whales, dolphins, and other marine mammal life use to communicate and navigate. He seems determined to get to the bottom of the issue.
Copyright 2023, USNewsBreak.com