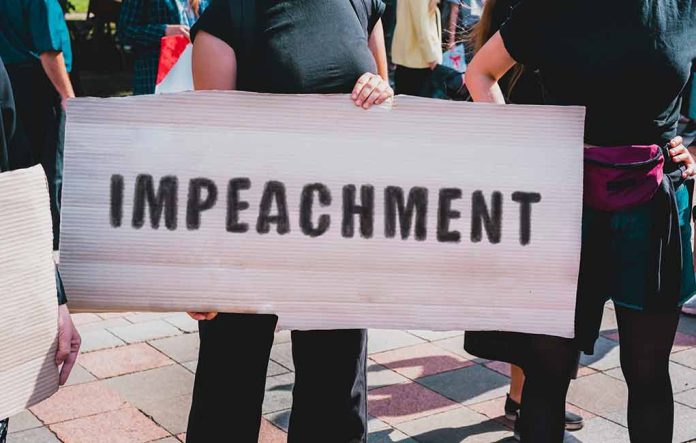 (USNewsBreak.com) – The Texas House voted 121 to 23 to impeach Attorney General Ken Paxton in May of this year. The AG faced a slew of charges, including bribery, obstruction, and abuse of office. It was the first of its kind in nearly 50 years, and naturally, it gained national attention. Now, he's enduring a Senate trial in Texas, and things aren't exactly going his way despite Republicans holding the majority in the chamber.
Motion To Dismiss — Denied
On Tuesday, September 5, Paxton's trial began. As is typical, the state senators voted on pretrial motions. Several included motions to dismiss some or all of the articles of impeachment the AG faces. Paxton filed one himself, claiming "no evidence motion for summary judgment" applying to all articles. The Senate struck the motion down in a 24 to 6 vote. All six votes in favor were Republicans. Another motion sought to "exclude evidence of any alleged conduct that occurred prior to January 2023." Senators also struck this one down in a 22 to 8.
Paxton's attorney, Tony Buzbee, entered a not-guilty plea on his client's behalf.
The Charges
In May, the Texas House of Representatives voted overwhelmingly in favor of impeaching Paxton on 20 articles. The vote exposed fissures within the state's Republican party. Former President Donald Trump's defense of Paxton further exacerbated some of those growing fault lines.
The charges Paxton faces include:
Disregard of official duty
Constitutional bribery
Misapplication of public resources
Obstruction of justice
Conspiracy and attempted conspiracy
Making false statements in official records
Dereliction of duty
Unfitness for office
Misappropriation of public resources
Abuse of public trust
Subordinates in the AG's office accused him of writing legal opinions and directing his employees to recant their own legal conclusions to benefit one of his donors, Nate Paul. The articles of impeachment also claim he violated Texas' whistleblower law when he retaliated against employees who spoke out against him and reported his unlawful acts to the FBI.
Unsurprisingly, Paxton wasn't happy about how the Senate votes panned out, saying the proceeding was "illegal, unethical, and profoundly unjust." He remains temporarily suspended without pay while the Senate trial proceeds to determine whether to impeach him or return him to the coveted role. Additionally, if the Senate impeaches and removes him as AG, a two-thirds majority vote would become necessary to allow Paxton to hold office ever again. That would mean he could never run again.
The first day of the trial included opening statements. Each side had an hour to make its case. Whereas the defense used 59 minutes of its allotted hour, the prosecution only used 20. Witnesses have begun taking the stand in recent days. It's unclear how long the trial might last.
Copyright 2023, USNewsBreak.com